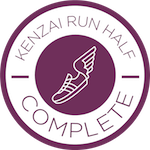 This is an awesome program and happy to say this is the 3rd time I complete it.
An amazing way to ramp up for marathon prep. My one criticism is that it ramps fast, so best to do it off a solid base or right after Kenzai 10k, otherwise real risk of injury or burn out.
When are you launching Kenzai Marathon? I'm signed up for the Honolulu Marathon this year (8 Dec) so have over six months to get ready.
Thank you for the enthusiastic support from the small, but vocal team! And thanks to Ward keeping me in the straight and narrow when I lagged behind in my posts!
---