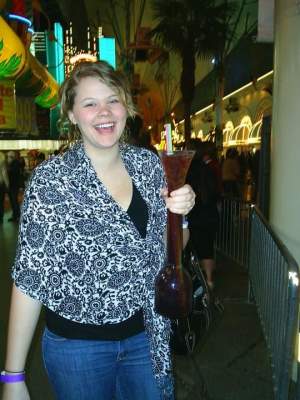 Well, I haven't told anyone other than my boyfriend about this, but I recently quit drinking.
Today is day 50 sans alcohol, and it's the longest I've gone without booze since I did Body 5 years ago. Towards the end of that program my dad passed away and not long after that I got divorced. That was followed by a very tumultuous new relationship, a first trimester miscarriage, and then an impromptu 8 month solo backpacking trip through the Middle East and Europe. There, I met my current (and hopefully forever ) partner and moved to France to be with him.
Over the years it seems like I've had excuse after excuse to drink. I'm sad, I'm happy, I'm celebrating, I'm mourning, etc.
I've been drinking way too much the past few years on a daily basis. I've tried moderating myself over and over again, but nothing ever sticks.
Two months ago, I was in Spain by myself and I got sick. Really sick! I had a terrible fever, hot and cold flashes, aches and pains, and I was delerious. I was staying in a little pension in Granada up four flights of stairs and I didn't have the strength to even walk down the hallway. I didn't eat for four days and slept for 33 hours without stirring. I should have gone to a hospital but I was so out of it I couldn't think straight. It scared me, and kind of snapped me out of this mentality of hedonism I'd been in for years. My body is so previous, and I've been abusing it with heavy drinking for 15 years.
Anyway, like I said, today is day 50 of my alcohol free journey. I feel amazing. I'm happier than I've been in years, I feel creative and inspired again, I'm sleeping better and I look better, too. I went to Tuscany for 10 days and didn't drink. I feel happy now, which after so many years of anxiety and depression feels like such a relief.
Of course I know this is only the beginning, but I'm excited to start this journey.
Wish me luck!
*Photo from 10 years ago on a bender in Vegas. 30 pounds heavier than I am today.
---