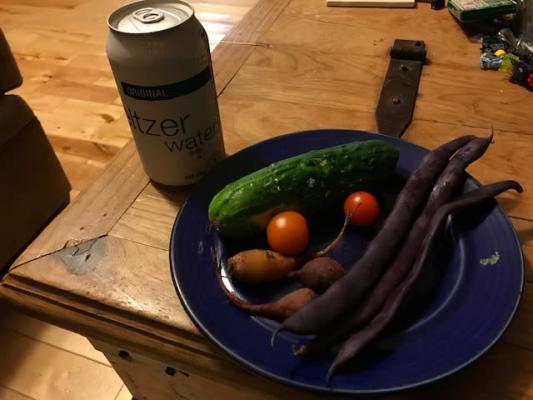 So I thought going into this week that the new portion of veggies as a snack at night was just plain weird. I mean, who does that?! Here's a picture of my first evening veggie snack. We had just weeded our overgrown beet row and a few small ones came out in the frenzy. I packed these in foil with a little spray oil and popped them into the toaster oven for 20 minutes. Yum!
One of the things that's most surprised me about this process is that I don't find such an obstacle anymore to take time to prepare things from scratch. Don't get me wrong, I was pretty good about this before as the primary cook in the household and committed to having a home cooked meal for my family every dinnertime. The thing that surprises me is how I'll think nothing of just slicing up some potatoes and sweet potatoes to do clean french fries in oven, or wrap up some beets to eat as a snack. It goes fairly quickly and can be slotted in amongst the family card games, or getting pajamas on in the evening.
I'll also celebrate doing 1000 jump ropes today. Wow, I can't even remember what number we started with initially. I will confess that I am still sometimes crap at this. I'll trip after 13, 7, 53...but the difference for me is just quickly regrouping and adjusting to keep going. The frustration isn't there like it was in the beginning. That's a win.
Hope my team mates are finding their own wins and pleasing surprises as well.
---