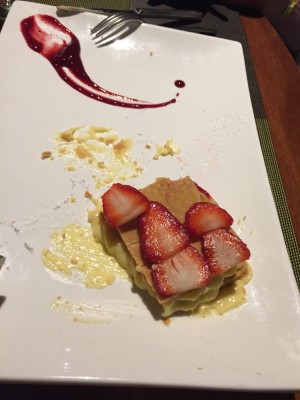 I wasn't very excited about it, but had it when we went out last night with our friends.
Last time I had pizza and had terrible stomach cramps afterwards, so strangely this time just before we left home I started to have light cramps - not sure how that happened.
Anyhow, we went to a fab restaurant (there are so many here in São Paulo - which I blame for the part they played in helping me get out of shape) and I had:
- some yummy brioche bread straight from the oven
- sensible-ish enough starter: salad with walnuts and Gorgonzola cheese (it wasn't mixed in, which made it easier for me to just nibble on a few bits)
- as a vegetarian, the only options for main course were 2 pasta dishes: chose the ravioli filled with Brie cheese and figs, with spinach, pumpkin seeds and a sage / butter sauce - the filling was too rich so I took most of the cheese out.
- I didn't feel I could manage a whole pudding, so had 2 spoons of N's and it was delicious: strawberry mille feuille (absolutely worth it, yum yum yum) - that's the picture only taken once we had already started demolishing it.
- 2 sips of red wine
Aftermath: felt fine, not queesy, not full, no cramps and so far so good the next day.
---