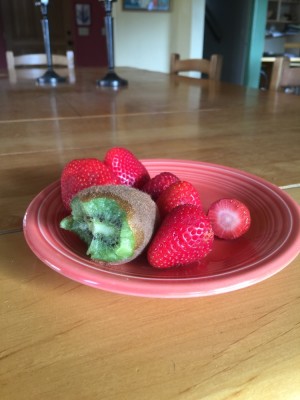 The days are short and the work is long. Often the only times when I have time to eat my fruit snacks are when I'm driving on the road. Bananas are great for that. But a girl can only eat so many bananas in a day- two to be exact- and with the pre-workout banana on the menu, I need to find more road-friendly, on the fly options. The second best fruit for life on the run... drum roll please....
Kiwis!
I learned a while ago while doing research for a K-Note that a kiwi can be eaten whole, fuzzy peel and all. This was news to me as I have been eating it my entire life with a spoon- digging out the flesh and throwing away the skin. Because really, who wants to eat brown fuzzy peel even if it packs a mean punch in fiber and vitamin C?? Alas, desperate times call for desperate measures. When there's no time to weigh out/ prepare your fruit snack (cut/ core/ peel) and your oversized bag cannot possible fit another item- especially precious cargo that could get smashed- it's time to bust out the kiwi.
It's compact, it's self contained (no peeling necessary!), it's not overly juicy so unsightly juice stains are not the norm, and there's not a whole of variance in size so they all pretty much weigh the same. It can be eaten safely with only one hand while the other steers the car, and perhaps most importantly, it won't mess up the lipstick too much when done properly. So many virtues. And it's green! Who doesn't love a good green fruit? It's so fun to eat. The fuzzy peel doesn't bother me at all. It's pretty good actually. Next time you're in a hurry, just grab a couple of kiwis and head out the door- you'll be golden.
30 Day Check In:
Weight: STABLE.
I am bringing up weight because often trainees get pretty demotivated about the scale not budging downward after working so hard for a month. We probably sound like a broken record player at this point, but it bears repeating- the scale really doesn't matter!
I am crushing so much more food now compared to pre-KB2 and still the scale still has not gone up. Not that the concern was based in reality, just that sometimes old thinking still sneaks up on me too. In the months leading up to KB2, my diet was crap- not in what I ate but how much I ate. I was eating enough to survive and that was all. But now I am eating to *thrive.* Such a world of a difference eating to survive vs. eating to thrive. Thrive mode feels good- Body feels stronger, weight is stable, and clothes are fitting looser. I trust that more gains is to come, absolutely.
Waist: DOWN 0.5 inch.
Diet: 100% pure love (this week)!
Current Mood: Awesomesauce and motivated.
---