Day 29- Timing and the White Jeans Challenge
Oct 14th, 2015 at 10:43AM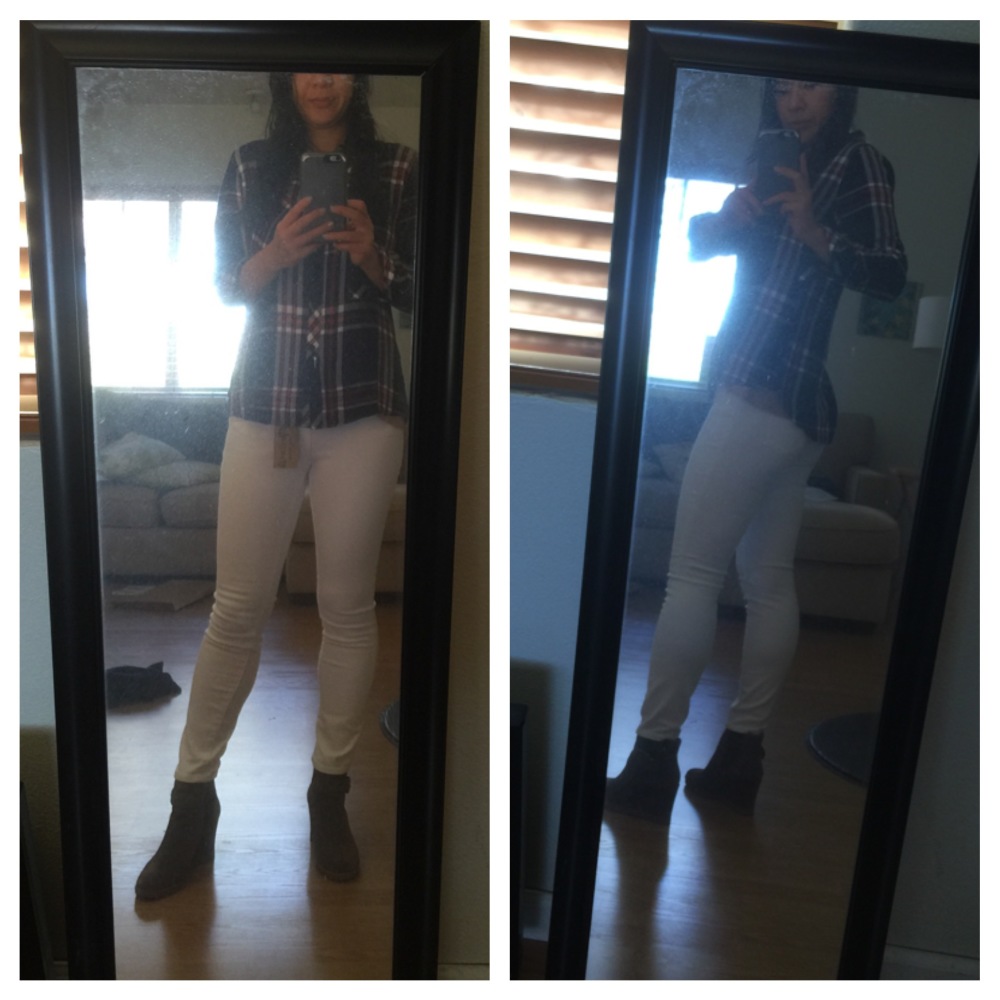 If my life was a rom-com feature, wouldn't this be about the point in the story arc where something disrupts the budding romance between the protagonist and the numero uno love interest? You know, to create dramatic tension, punish hubris, and provide opportunities for growth. Blah blah blah. Well, dear readers, I aim to not disappoint... I have been withholding some information about the Professor...
But first, let's talk about these white jeans. I've always loved white jeans- to me they scream casual Hamptons chic- a look that is particularly hard to pull off when one has never been to the Hamptons and so for all I know, the beautiful people of the Hamptons don't wear white jeans at all. But I digress. I've always loved white jeans but have never owned a pair because they are very, very, unforgiving. Ladies, you know what I'm talking about.
But I bought these jeans online a few days ago and I purposely bought them 1 size too small. The pictures do not do them justice, so you just have to believe me- they are so dang tight right now. My very Chinese mother would call them sausage casings. So the challenge is for me to confidently and comfortably strut around in these jeans come Day 90, without invoking any pork-related metaphors. The key to motivating someone is finding their driver- well made, WELL FITTING, beautiful clothes motivate me to the moon and back. They are fully refundable in 60 days but Lord knows I love spending money so I hope I don't have to return them!
So yes, the Professor...well. The fact is that this dear man is...
Not completely single. Not legally at least. God, that makes me sound like a tart. So here's the low down: The man filed for divorce in April after TEN years of marriage (!!!), and it will be finalized at the end of this month. On my birthday, incidentally. Of course I didn't know any of this when I agreed to meet him for a beer for the first time that fateful night in August.
Against my better judgement, a beer turned into a date turned into a 3 hour tour. But now I'm afraid that the tour has come to an end.
It all came down to a simple, single disruptive word- BROWNIES. Just kidding, it came down to Timing! Oh Timing, you got me good here- but we gotta do, what we gotta do. The farewell was very amicable and as a true sign of friendship in this modern age, we've agreed to be Facebook pals.
Dating and Kenzai is a combustible duo and it has forced me to be super selective in who I share my food grams with and less generous in determining who is worth the extra calories for a glass of wine. While the Professor was worth it, I can't say I'm dying to jump back into the game this very second. We train too hard to just blow it! A friend messaged today with a man's picture and said an architect was waiting behind Door Number 2, will I open it? I don't know… maybe I will just focus on fitting into those white jeans for a bit.
Tweet