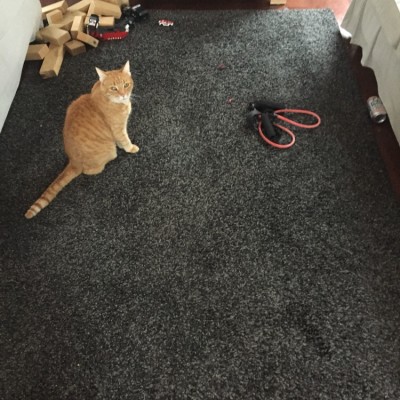 The first week flew by. I didn't follow the diet as well as I should but am motivated from here on out to get it right. My week 2 diet includes apples and egg whites for dinner which always makes me happy because of how easy it is to prepare amongst the chaos of nightly meal time. I'm struggling a bit with the long skipping time but am determined to make it through. I mostly run but have always noticed how much better my running gets if I take some days to skip instead. Hope everybody else is doing well. Just a few more weeks to go!
The photo is where I typically do the an portion of my workouts. Today I had a furry friend helping me.
---
So I must have been thoroughly suppressing all emotion about these past 3 months until Kate said on the trainer post this morning that approaching the end of this journey is emotional and something in me just let go. On my run this morning I was a crying snotty mess. I am proud of myself and amazed that I did it and it works. More to come about any and all emotions on my last blog post but for now....Thank you Kenzai!!!!!!!!!!
---