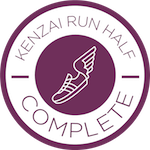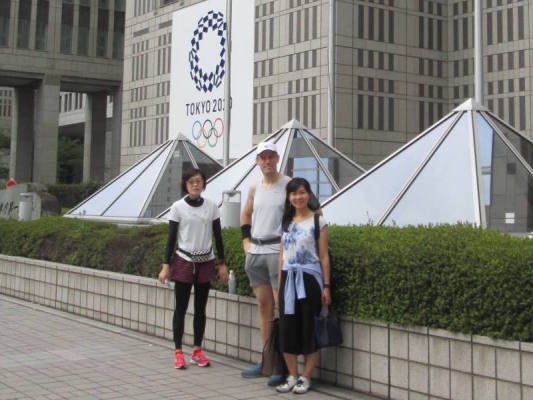 Yours truly, ready for the run, joined by my running friend for the day on the left, and my girlfriend Yuko on the right, only for the picture.
It took me a whole week to finally get to write this post, sorry about that...
So, as I was writing in my previous post, Sunday 14th, day 42 (last) of my Kenzai Run 2 program, I joined a running "event" for my 21K run. The event was not a race, but I was hoping I could get to run at the pace I wanted, and to extend the scheduled 20K to the targeted 21... It didn't go as well as I expected.
First of all, only two participants showed up at the event, and that's including myself! The organizer, on a bike, showed us the way, and we followed running. As it was a "touristic run", we made a lot of stops, to get explanations about landmarks, the story of Tokyo... Before the run, my target was to race for a goal time, but as soon as I realized I was going to be pulled back (we're only two runners in an open environment, we have a map, but I don't feel like leaving them behind), I switched my goal to finishing the race happy about myself.
More than two hours after the start, our host ended the run and left us. Realizing I only had run 15K, I decided to complete my run, even though my time would be bad, and I could find many other reasons to stop there.
I pushed through, lowered my pace (around 5:30min/km, compared to the 7:30 so far), and finally completed 21 kilometers in about 2 hours and a half (that's excluding the longest breaks we took, that I did not want to include in the final time). I was very hot and sweaty, my legs were weak, but I finished the way I wanted: strong, and kind of happy about my performance!!
Regarding preparation: I felt very well prepared: I had my hydration belt, in which I had also packed some Calorie Mate (no idea how good that is, but that served well!), my clothing worked perfectly, did not fail, and apart from a small stitch at the beginning, I was able to run strong and confident that I could end! One thing I'll need better preparation for next time I run a long distance in the summer will be sunblock: I wore for the first time during that run a thin T-shirt that does not cover the shoulders, and I ended up sunburnt!
In conclusion, this run was a mixed bag of fun and disappointment: while it would have made a perfect training run one week before, entertaining, teaching me historic stuff about the city I live in, it left me unsatisfied, as the final run of my KR2 program, that I was expecting to run as a race...
Kenzai Run 2 was a great experience overall, that I feel I followed more assiduously than KR1, and I loved the results! I took a week-long break last week, and now will go back to training, as my next step will be a marathon end of November!
---