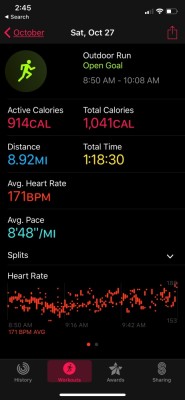 As I said earlier needed to do the long run a day early again this week
It was quite a run (8.92 miles)
BTW, my Glutes were yelling at me a bit after yesterdays strength training
As you saw from the last post it is a bit rainy, windy and cold today
Taken individually I like running in colder weather and I like running in the rain, however...
Not together
Again, I ran from my house and this particular route has some big time hills (like every other run from my house)
I keep saying this but I do need to run more on flat land
It's easy to just run from my house when not traveling
Miles 3-5 were a slog for sure
I got to a particularly gnarly hill @ half way point and it took all my mental toughness to keep going after that
I actually started to feel better at around mile 6 and finished pretty strong
My final average pace was 8:48 per mile
Compared to last time I ran this route--which was my last KR10K run on 9/22--I improved by almost 20 seconds
See the two runs attached
Gave that one a big fist pump!
I was tired--and very wet--at the end
I will say that I did not sleep well last night. Since my diet has been pretty clean I am sure it was that lack of a good night sleep that made the middle part of this run a bit tough. In the end I feel the result was a good one though.
We shall see how I feel tomorrow when I do the Pace Run (which should have been today). I just don't see the window of time to do the long run tomorrow.
Run Forest run!
---