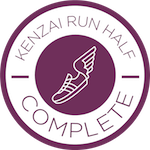 Almost There
GRADUATION POST
Feb 26th, 2018 at 10:52PM
It feels strange to write a graduation post right now. My marathon is a week away, and since I'm tapering, I'm actually doing very little in the realm of running. I'm feeling calm and confident going into the race.
Shoutout to all the folks who put in the mileage on Run, Run10K, and Run Half. It's been a pleasure serving as your assistant trainer. I am so inspired by your hard work, your struggles, your successes.
Malia and Patrick - this program is so good. Thanks for giving us this gift.
Coach Matt - you are fantastic to work with. You are prompt and consistent and your advice is always spot on. I learn so much working with you.
Onward!
Tweet