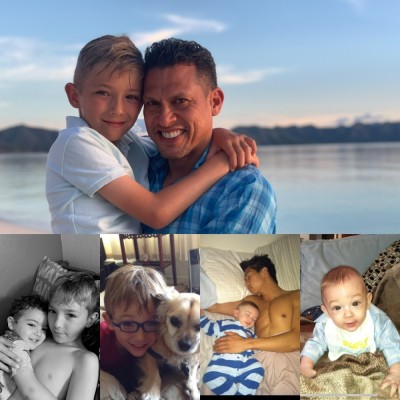 I've been composing this blog in my head for a few weeks, and Jenny's recent blog in all of it's beauty and vulnerability inspired me to get this down in print.
In my introduction blog, I mentioned that a key driver for taking Mind again is that I've been struggling with my older son.
B is 8 years old. He's charming, playful, empathetic, and mischievous, with a wicked sense of humor. His entrance into this world was hard. His birth mother was and is experiencing homelessness. B didn't have prenatal care, and was born 28 or 30 weeks gestation (at least 2.5 months premature). He weighed just three pounds (1.36kg). He was born on the steps of City Hall in San Francisco. From minute one, he fought for survival. The paramedics arrived during labor and rushed birth mother and child to San Francisco General Hospital. There he was received by some of the best doctors in the world, including Dr. Susan who was the pediatrician in charge. Under her care, he survived. She is still his pediatrician today. But that survival was a battle. He was in neonatal intensive care for a full month. During that time, he had wires attached to him, lights overhead, a tube and machine to help him breath, food administered intravenously. At some point during the first week, his birth mother asked the staff to find him a good home, and made what I believe is a bold and loving decision to leave.
I met him when he was five months old. I had read his medical file and it was scary. His foster mother took him out of the stroller and placed him on my lap. He grabbed my fingers. He looked into my face and he smiled this big, toothless grin. Then he threw up on me. My husband and I fell in love with him with an urgency and protectiveness that defies genealogy. He moved in with us one month later and the adoption was finalized a year after that.
My son has developed into a wonderful boy in most ways. The human body and brain are resilient and miraculous. Here's the complicated part – all of that craziness of his birth and first month had an impact. His brain was wired in emergency. The result of that is that his fight-flight response is overly developed, and it's hard for him to control that with his developing rational brain. Things that are annoying or bummers for other kids can cause a full-on melt-down temper tantrum for him. For example, last week I told him to set the table for dinner, and he refused, then screamed, then threw himself onto the ground crying. Other recent triggers include saying no to buying gum, the iPad having only a 2% charge, not scheduling a play date when he told me not to schedule it (you read that right), telling him to get dressed in church clothes, saying no we can't have mac n cheese and SPAM for dinner tonight.
We are in family therapy and it's working. We are learning tools to manage help him manage big feelings and reactions. His outbursts have reduced in frequency, duration and intensity. The really hard part is that every tool requires me to be calm, firm, centered. When my kid screams and cries because he can't have gum, I need to say, "I'm sorry you can't have it. I get it. You really wanted that gum and it sucks." But there's a part of me every time that wants to scream, "Why can't you be normal?! Why are you doing this to me?!" And sometimes I do scream. His adrenaline triggers mine and then we can both be in a fight-flight situation. It always makes it worse. I always feel like shit afterward. I'm not a calm person, and providing the right kind of discipline for my son and his developing brain means working on my calmness.
So here I am participating in Mind for the second time. Every day, there's a moment where I can feel the surge of anger rising. Most times, I see it, remember that I am not my thoughts. I am not my feelings. And then breathe through it and choose a response that is more beneficial to my son, to the situation, and to me. This six weeks is providing me with some powerful tools. This is going to be years and years of work for both of us.
---