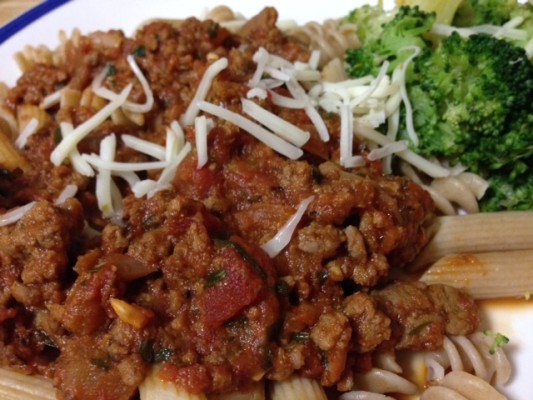 ...rather than abject failure.
I completely screwed up lunch today. I had made and packed a Kenzai-ed version of Bolognese sauce with whole wheat pasta, but totally forgot that I had a lunch out. I figured we'd go somewhere and I'd order fish, rice and steamed veggies and I would approximate the portions. We went to a Thai restaurant. The rice was easy enough, but are fresh spring rolls Kenzai-approved? What are the portions? And my chicken came in a (delicious) curry sauce which I'm sure was liberally salted and sugared. I tried to pull the chicken and veggies out of the sauce without being drenched, but this definitely wasn't the lunch I was supposed to be having. I finally got so frustrated that I said, aw screw it, and ordered a double martini.
Ok, kidding on the last point. But I am embarrassed to have gone reasonably astray on the first day.
I got back on track with dinner. Here's the Bolognese I made.
---