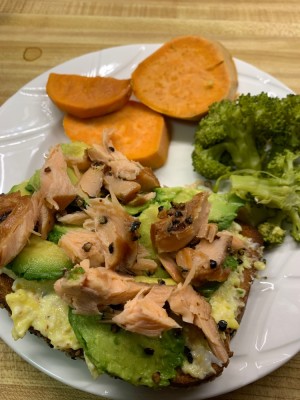 Hey Balo teammates, excited to join you a week late, after a great run on Kenzai Mind. If you've wanting to try meditation, or have an off and on relationship with it like I did, check out this program. The lessons were amazing in getting me to understand a meditation practice in a different way. For example, meditation is like exercise; it has great benefits but it usually feels like hard work when you do it. That was transformative for me in shifting from a "why am I not at one with the universe and levitating after I've been breathing quietly for 4 minutes?" attitude to a "whatever happens is right" attitude. Okay, done with that plug.
However, I wasn't disciplined with my diet during Mind. That + holiday gain = significant waistline fluff. I had dropped two inches from my waistline by the end of Iron in early Dec, and my waistline has expanded the same amount by mid-Feb. Let's see if we can drop one of those inches during this program. Being on Chisel is like seeing an old friend. This is my favorite Kenzai program. I love the intensity, the brevity of the workouts, the 6-week focus, the let's get it done and then we are done. The big focus for me will be staying on diet and avoiding alcohol. I have some indulgences that I want and plan to engage in - my parents' 50th anniversary dinner this Friday night, a lunch with colleagues long in the planning next Monday, my annual St. Patrick's Day dinner party on the 17th. If I just stick to those, I should be fine. There are some other challenges that are tempting but that I will navigate - both sons' birthday party this Saturday, date night to see Hamilton on March 7, two other nights out with colleagues. Those are the types of of extras that can break a program and I have allowed similar distractions to mitigate results in the past. So strength and courage.
Here's the avocado toast that signals my start of program, and below is the mini-toast I made for my younger son because he's always coming for mine and I don't like to share.
---