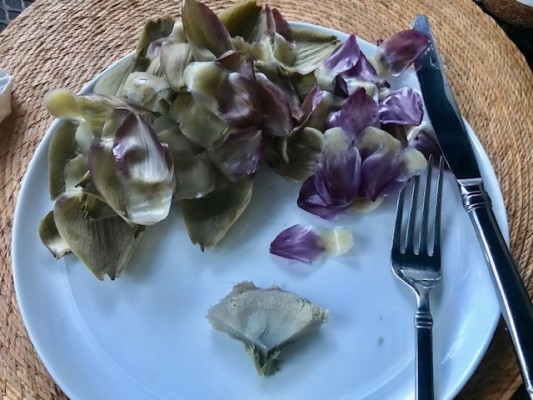 Greetings Team,
I was so excited to start Week 2, I experimented with the diet a day early. I can't recall the last time I ate that much food. In fact, I couldn't eat all of the carbs. Should be an interesting week ahead.
I am discovering I am clearly and emotional eater. Something I never thought about before. Yesterday I ate food on the diet that I wasn't even hungry for. I felt like I was force feeding myself. Not sure if this is a good thing, but I followed the plan the best I could. Missing my evening glass of wine and cheese and crackers but dealing with it. Drinking lots of tea instead.
Also discovering, I don't breathe properly when I exercise and stretch. Certainly have to be more mindful of that.
Some of the exercises continue to be challenging. How about that DaVinci? Still on my knees with the push ups. But before Kenzai, I wasn't even on my knees given the knee replacement. I guess that's progress.
Yesterday, I grilled some chicken, cooked some salmon, roasted vegetables and cooked some black rice. I discovered a very light spray of olive oil and pepper was tasty enough. Hopefully I am prepared for a few days. I also put some sliced banana sprinkled with cinnamon in the freezer for a fruit treat. Surprisingly, it was ok.
For those of you asking if I left 1/4 of the artichoke heart...the answer is yes.
Stay strong this week.
Elaine
---