What is dragon boat?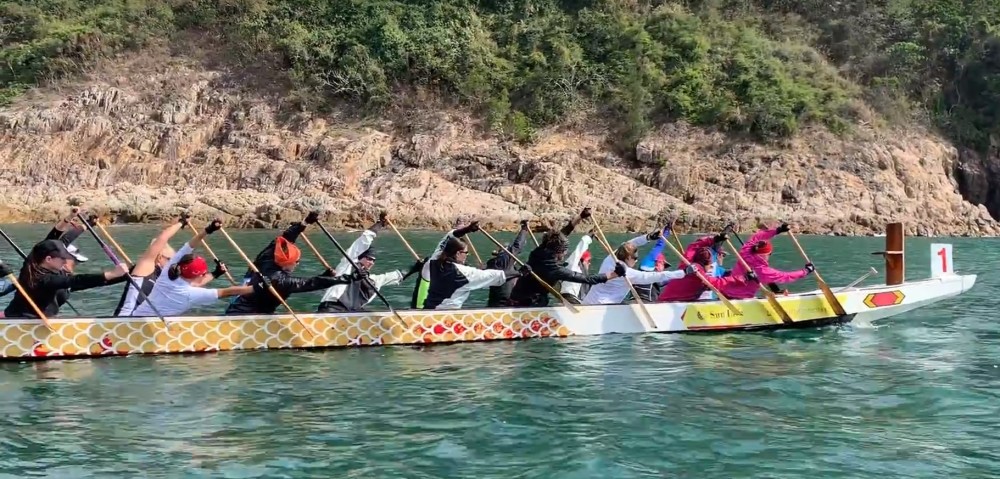 I had this question pop up from someone I haven't trained with before, so thought I'd pop up a short post for anyone interested.
There is all sorts of history behind this sport - started in China a long long time ago. But now it has really spread to many parts of the world. The boats and races vary slightly from place to place but the idea is the same.
Here in Hong Kong our standard boats seat about 20 paddlers in rows of 2 with a drummer at the front and a steersman at the back. The newer boats are usually fiberglass with wood planks as seats. The paddles are usually wood or carbon fibre. The stroke is an intense powerful drive down into the water and pull through the water. The key to getting good power is to use the whole body - pressure from quads and glutes, rotation from core, strong shoulders and a bit of arms. And the key to getting the boat to move fast is to have all 20 paddlers in time!
I've been paddling for the AWA Globe Paddlers for almost 9 years now. We aim to be competitive but still have a lot of fun. Here are a couple shots from some recent filming. I'm in row 7 on the right side with the black jacket and orange headscarf. In a race we would have a dragonhead on the front of the boat (and tail on the back) plus a drum in front of that seat at the front...with a drummer!
It's a great workout. And great to be part of a team!
Other photos:

Tweet