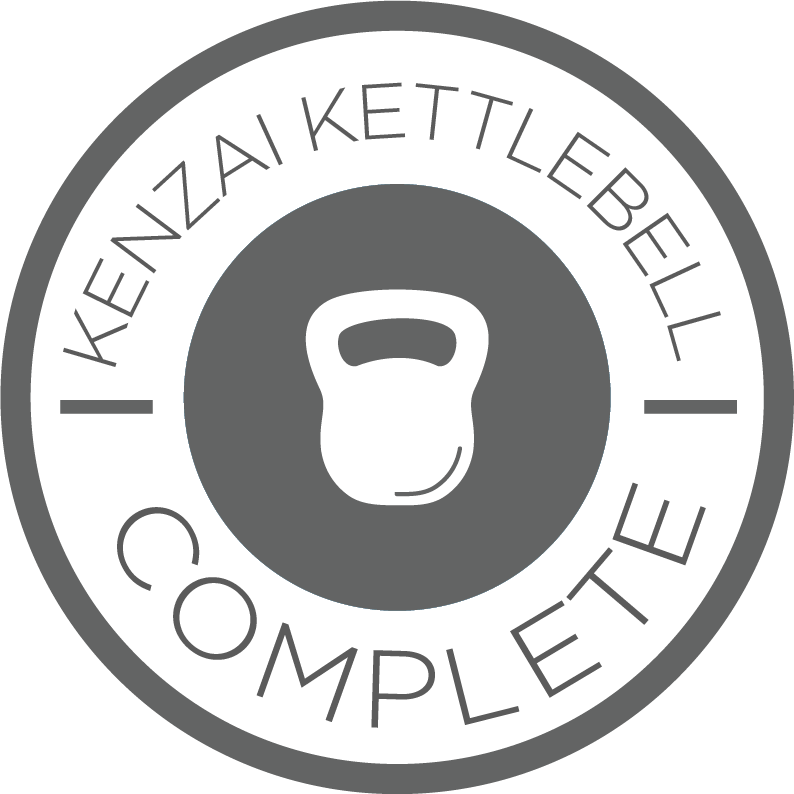 And finally, the deed is done. Kenzai Kettlebells is now Complete! To be very honest, I was a surprisingly underwhelmed on the final day today. Think, I was building up the last day to be really tough, and was caught by surprise to find the workout over in a fraction of the time it takes on usual days. I loved the Kettlebell Program, and will be incorporating it into my maintenance plan to follow, just as exercises from Reach, are now part of the drill for me. Glad to feel stronger, fitter and a bit faster, if not lighter, this time around. Didn't really manage to lose weight this time, but I think I've reached a static point with that, since KB 1 last year, and managed to not increase my weight over time. That's a win in itself.
I started K-bells from a point of weakness. You don't realise how hormonal you are as a woman, until you're on the other side of 40! In my case, involuntary changes appear to be triggering processes in my body, beyond my control. Over the past few months, I've been finding it harder to make a fist with my hands, and have had an unexplained pain in my elbow. I guess this is the start of osteoarthritis, and one of the ways to treat it, is regular exercise to strengthen and improve musculoskeletal health. Clean eating, Kenzai-style, combined with stretching, cardio and strength training with the bells, has certainly helped me. The challenge now, is to keep on going. I hope to scare off my bones from going brittle in a hurry, and my muscles from slacking just for fun :-)
My son has always maintained that I have the "biggest biceps" of all the mommies he knows! Sometimes, it's embarrassing when he insists on me flexing and letting him feel my muscles, especially in public spaces. But on the flip side, when I went out with him last evening, I noticed lots of young men and women likely in their 20s with paunches hanging and seriously flabby arms. Couldn't help thinking I had quite a lot to feel good about myself, in comparison.
Incidentally, one of the side-effects of continuing to do Kenzai Programs is that I've really improved greatly on doing the Sitting Rising Test (SRT)- a simple life-expectancy test developed by Brazilian physician Claudio Gil Araujo and his colleagues (https://youtu.be/LWyRUYMQ7ws)
I mentioned this while doing the Reach Prog as well. But after K-bells, my performance has improved further. I can sit and get back up, unaided, repeatedly, with greater ease now. Those of you who don't know about this test, really should check out the BBC video link.
Thanks to today's lesson, great to realise that swinging around an 8 kg iron ball 100 times today, was the equivalent of swinging 800 kgs up against the gravity well of the planet I'm standing on! Wow. That's pretty awesome:-) And for perspective, to become aware that I lifted the total mass of an adult moose, Kodiak bear or bison, is way cooler!! Makes me feel pretty badass ;-)
Incidentally, for this week's challenge, I couldn't scale a mountain or peak. The closest I could get, to the experience was to clamber up my rooftop, to get to "high ground" to appreciate the scenic vista, getting to feel "on top". It was windy & drizzling, but the looming dark clouds in the distance, only seem to be there for effect. Tried to carry my 8 kg and 6 kg bells in a back pack, but didn't quite manage! Surprised how heavy the bells seem as deadweight, when you try to lug them without holding the handles.
Also sharing a picture of me taken exactly 8 yrs ago on this day- 22nd July 2010 in Naples, Italy, when my son was less than 2 yrs old. Think my legs are slimmer and stronger now, than back then!
Sharing some data recorded on the Samsung Health App for the past week too. My activity levels have been consistently high, and interesting to see how my heart rate climbed to 150 bpm during the intense cycle workouts.
Thanks for another great Program, Team Kenzai! Always love the daily lessons. They're so well-researched and beautifully written, I quite look forward to them. Was fun to get to know some of you on the Team Firedrake. Very inspiring to catch up with so many of you with busy work and travel schedules still making time for daily workouts and giving it their best shot. Thanks Thomas for hovering around, pushing and pulling while needed. Thanks also to Patrick, for the occasional look-in. You guys rock!
---