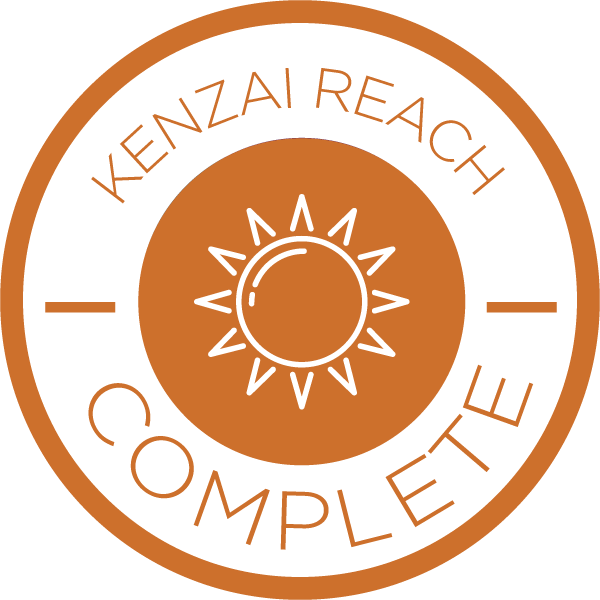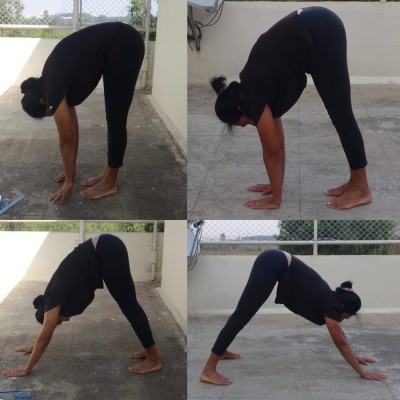 Reach wasn't an easy Program, but I thoroughly enjoyed the 56 day challenge getting used to the process of stretching my limits, a little at a time, thrice a day. Although it ended yesterday, I found myself doing the dynamic stretches again this morning, followed by the Sun Salutations and the first maintenance flexibility workout. So, if this is my new normal, I'm happy to be here 😃
In Feb 2016, I fractured my right wrist after falling from a 6ft ladder. This put an abrupt stop to my Yoga practice, which was coming along fine until then. It took longer than I expected for my bones to heal, and I simply couldn't find the strength or alignment to go back to doing most of the standard poses in the Surya Namaskara set or most other asanas, because it involved putting strain on the joints, especially the wrists. In fact when I began KB 1 in June, I struggled with the chest dips, tricep dips, pull-ups and push-ups mostly because of this old injury and had to opt for alternatives at times. I'm really relieved that with Reach, I have found my old self again. My wrist seems to have finally healed, letting me pull, push, lift my own weight, and finally form a 90º angle without wincing.
My biggest achievement over the past 2 months has been the relative success in getting my palms down flat in the Forward Bend position. What is still out of reach for me is the destination of the Wide Angle Forward Bend. I tried my best and the most I could do, was get my elbows to touch the floor. I've moved a fair distance from where I began on Jan 15th. The max distance between my fingertips and groin then was 17", whereas, on day 56, it was over 27". Also, my hips are a lot more flexible now, as the angle to which my legs can stretch is a lot wider than before.
That said, I have to admit that everyday, I feel like I'm starting from scratch. The first few dynamic stretches feel harder and it isn't until I've reached my fourth round of Sun Salutations, that my body starts to loosen up and get in the flow. I am still adjusting my heels in the transition to Downward Dog, and I don't get my palms down flat naturally each time I have to Forward Bend. But overall, I'm quite pleased with my progress and to not have missed a single day's workout. That I managed to stick with the diet plan for the most part, is also quite heartening. All the damage from Xmas and New Year indulgences has been taken care of. My weight is stable, I'm still off sugar and not craving treats. Got myself some stevia, in case I feel like a cup of chai (chai-tea), and I'm able to manage with a fraction of the quantity per sachet, also because I don't quite like the aftertaste.
Think, post Reach, I'll be sticking to a mix of Yoga and strength training for my maintenance workouts, as far as possible. Received Patrick's article on 'Abs' via email last week, (https://www.kenzai.com/pulse/abs-abs-abs/?utm_source=Master+List&utm_campaign=9b6605a3b3-EMAIL_CAMPAIGN_2018_03_07&utm_medium=email&utm_term=0_a69566740a-9b6605a3b3-119025153) and in hindsight, I think the Wide Angle Forward Bend is somewhat like the coveted, yet unnecessary hankering for the elusive six-packs! Of course, this could be a case of sour grapes 😉
Until later, thank you for the wisdom, the encouragement and the bonhomie, Kenzai. Thanks Kim and Kate, for always being around, and to a lovely team of fellow-grasshoppers! Cheers, Team Shalabhasana…
Sharing some before and after pics. Putting up so many pictures feels rather narcissistic, but I assure you, the purpose is fairly academic!
Am starting with the Forward Bend and Downward Dog comparisons, where change is very visible, followed by the Wide Angle Forward Bend. In the Wall Backbend, the curvature of my spine has improved greatly. The distance between my toes and wall has gone up from 32" to 36". The Wall Twist feels easier, though I did not take measurements. Shoulder Raise on Wall, doesn't seem to have changed much. The Rear Clasped Hand Raise has improved slightly. Back Scratch Test is good. This is one more posture where my broken wrist was bothering me earlier. Now I can clasp my fingers behind my back. The Broomstick Raise also seems to have improved slightly. In the Pyramid Forward bend, I'm now able to touch my head to the floor and get back up. The Calf Touch to the Wall varied on both legs for me in Jan I was able to bend my right knee more than the left, at a distance of 12", whereas my left foot trailed at 11.5". After Reach, both calves are more and equally strong with an increased distance from heel to wall measure of 13.5" for both legs. The Active Leg Raise- I seem to have missed this in Jan, but feels good now. My Jack-Knife posture in Jan was rather off, I think, but looks better now. The Squat Test is good. I've shared this before- I can go down all the way and get back up. The Cobbler Test was fine in Jan, and has stayed good all along. For me, it is part of the Butterfly Pose (Patangasana), where you flap your folded legs like the wings of a butterfly. This is the initial pose of that asana. There's almost no gap between groin and heels for me. The Seated Forward Bend was also doable in Jan for me, but has become easier now. The Wide Angle Legs on Wall poses seem to show the improvement in flexibility over two months. Much better now. During the Floor Spine Twist, my hands were able to make good contact with the floor and the twist was quite complete. The Active Backbend is also fairly good. Not posting a picture here, as I've already shared pics of Chaturanga earlier. The last one is the Floor Shoulder Mobility Test. Here, my palms touching the floor stage looked kind of silly in Jan, but looks better now. Meanwhile, the Samsung Health app on my phone tells me, I've had a really active health streak for a while. Chuffed to be ranked amongst the top 2% of the most active females in my age group, using the app! Small joys 😄
And with that, it's a wrap! It's been great getting to know you guys. Thanks for indulging me and my 🐶🐕 doggies See you all, some place else, soon 🤞👋
---