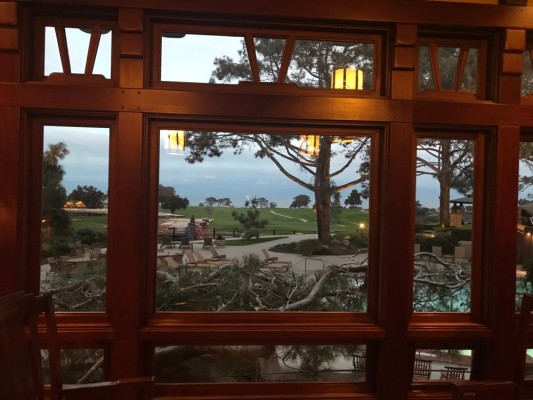 It was tough, and I definitely didn't master my work-life/kenzai-life domain, but I didn't fall off the ledge or the program either, so that's a win!
Only missed 1 out of the 5 days of workouts while away. The cardio was walking 15,000+ steps as I enjoyed 18 holes at Torrey Pines on the coast of California (photo is from hotel looking towards the golf course and ocean).
Food wise — I enjoyed myself for sure. Was wined and dined nicely, and just controlled my intake a lot more than I used to, but definitely indulged too much. Dinners were my largest misses, but boy were they good! Lots of fish, so that helped.
Back at it now, and been 100% since returning Wednesday evening. Downside now is that I woke up with such a sore throat that I couldn't swallow. I hope that's all I fight and that I don't get more sick.
Sorry for being absent from the blogs for the week. Was dedicated to work 100% of the day really.
---