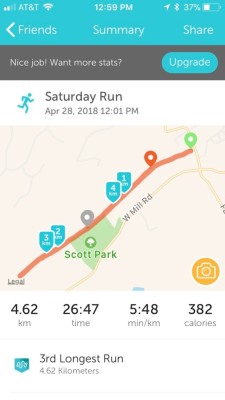 Saturday morning. Good nights sleep. Excellent breakfast. Great mango fruit for snack. Was pumped to hit the soft dirt and gravel trail for the run today. 63 degrees and no wind, so everything was perfect. This was it! The joy of Kenzai Run! NOT!
Tried to do the arms. 90 degree elbows seems unnatural. Tried to work on column and on breathing. Same as always, couldn't wait for the running to end. Kind of bummed about it. When I used to cycle, I found that place where you would just do it, enjoy it, and mind would drift and long long ride would be done.
Wondering if I'm just not made for running,...if the bad run, heavy legs, counting the minutes until done will ever go away for me. Not quitting, just not expecting that I will run at all after this program is over. I'm enjoying conquering the challenge though.
---