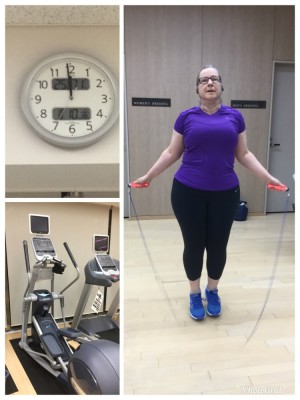 So far so good. All six workouts done and diet completely on track since day 4. I was about 95% the first three days but did have some chips when I had to work late. I have continued to avoid the snacks in the pantry at work since Chisel, so that was not something I had to overcome.
I have been alternating skipping with some elliptical. So far 4 x skipping and 2 x elliptical. Last night I did 31 minutes and sweat a bucket, so I think it is equal to 15 minutes of jumping. Today I was happy to have the first 2 five-minute sets without a trip and the first trip came at 3:37 of the third set, so I guess I am back to skipping form.
As noted in the lesson, the exercises are easy, but I knew that going in. I have added a few reps but I am thankful the workouts are short. It definitely makes it easier getting going when one knows it will be well under an hour.
In honor of Fish's plank challenge - which I won't do - I kept the plank going through the 2 twenty second sets and the 20 second break for a 60 second plank. I don't find 60 seconds hard but I know it gets tough around the 90-105 second mark.
The 20 second breaks between exercises is interesting. I find on K-Life the 10 seconds allowed for back and abs too short sometimes. But 20 seconds seems like an eternity, so I generally have been starting back in at the 15 second mark.
I am thankful to have the diet to follow and the exercises as my mother took a turn for the worse this week. I am pretty sure I would have been less careful with food had I not been just ramping with Reboot - I mean, who wants to slip up in Week 1?! Fortunately John is mending well, so that is a relief. I will be glad to get to Scottsdale on Wednesday.
My biggest failing this week was sleep training, especially towards the end of the week. I made up for it Friday night, and it was interesting to see my weight decline overnight. I am pretty sure it was water, but it continues to reinforce how important sleep is. Also, my ankle had bothered me yesterday as I stepped on my heel the wrong way going down stairs, which left me limping. Today it feels fine. So this coming week I need to focus on sleep training.
The photos are of my gym where I live in Tokyo...very boring but no way I am going to workout in the steambath aka Tokyo. The wood floor is forgiving on the knees and easy on the rope. Last night I didn't get to the gym until after 11pm, so you can see the final as it approaches midnight. But the workout got done!
I will take some more interesting photos in Scottsdale, as the hotel I am staying at has some nice views.
Have a great weekend!
---