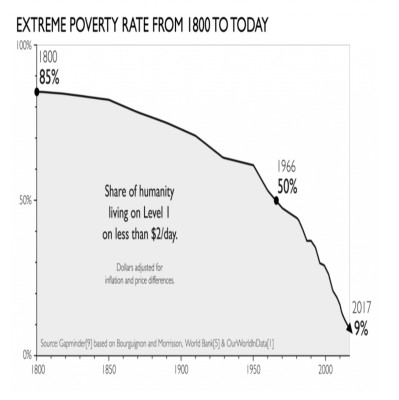 Was getting out of a cab on a particularly rainy afternoon last week. With an opportunity to make a green light at the cross walk more appealing than grabbing the receipt and writing off the cab, I opted to jump out and catch the light. Staying dry won out over saving a few bucks.
Thinking about it after the fact, I'm gobsmacked by the fact that nearly 1 billion people around the globe live on less than 2 dollars a day. My desire to avoid a getting rained on was worth more to me than a couple days cost of living for them.
This boggles the mind but I'm also reminded that the world is getting better (despite what the media might say). The numbers of people living in this extreme level of poverty has halved in the last couple decades. More than that it's gone from 50% in 1966 to 9% as of 2017.
Still the absolute numbers of people who could have benefited immensely from what I deemed to be a pithy amount to save over getting a little wet is astounding. Even as things getting better, data shows that, but we still have more to do. I can do more.
Anyway, that's what's on my mind recently.
Till next week..
To Truth, humility and never thinking your shit don't stink.
Oh yeah, crushed the first week of beach blast, all workouts done and dusted, nutrition on point since day 3 and not too bad day one and two either.
---