Mankini Blast Day 11: Moisture is the essence of wetness, and wetness is the essence of beauty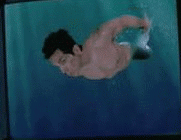 From today's Lesson: "When you see someone in a swimsuit (or their underwear), your eye will immediately drop from their face down to their midsection.". Um, no it won't...at least not immediately...
New BLAST today Mermaid Jumps, welcome to the rodeo. 1:00 Crab Walk feels like such a LONG TIME, up and back and side to side, I think next time I might level-up and go up/down the stairs. Shout out to @Sharm, rocked some wicked Scoop Push-ups yesterday on her IG feed/story/whateverdafuq the kids call it, tried today keeping my body real low and slow on the backswing un-scoop, talk about level-up, that was TOUGH. I've whinged about this before but on the Crescent Kick I'm getting a weird clicking in my right hip/pelvis/joint area, not the first time, not the only exercise (also happens on Leg Shears, among others), no biggie, just weird.
Jumprope 20:00 HYPER: 1830/22 trips. Just one of those days, though didn't feel like a tire fire per se. Tripped @ #10, which was very discouraging, but otherwise they were well spaced out, EXCEPT there were 2 double trips and 1 triple trip (trips on successive jumps), THOSE are infuriating.
Day 11 MotD: Lunar Lunge Jump was like no Sally today? Whaddup! I'd like to thank the academy, my Lord and Savior Dagon...not so fast La La Land, today's winner is...the ROOKIE, Mermaid Jumps! Its interesting, I actually like Mermaid Jumps when they are 4 sets of 15-20 reps in a normal workout, but in the 1:00 BLAST I hit a wall around 30, holy shitsnacks it became more like Parapalegic Leg Drags...
*for those just tuning in, MotD = Mutherfukker of the Day, that's today's workout's toughest BLAST, as unilaterally determined by me.
No booze streak: 11 days.
Today's featured selection:
https://youtu.be/YN1QrKBoAf0
tl;dr
-New BLAST Mermaid Jumps, Crab Walk BLAST seems like a long time.
-Jumprope 20:00 HYPER: 1830/22 trips.
-Day 11 MotD: Mermaid Jumps.
Tweet