Reach Day 50 - Gone Rogue!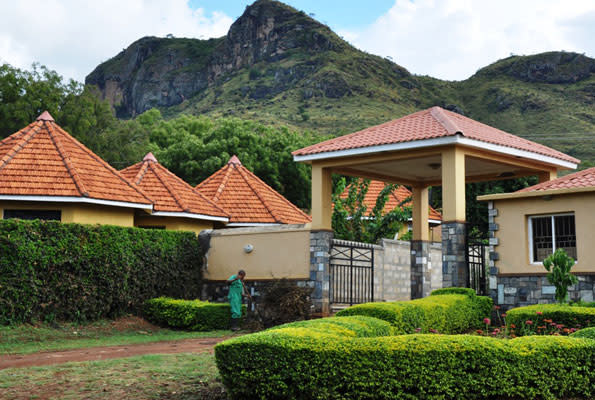 I picked a difficult time period to try to navigate a Kenzai program. I'm actually surprised that Ward hasn't kicked me out of the program yet! Wow.
Brief update. I am about 40% on program. After the last update, I traveled to Uganda to co-facilitate a couple of workshops. The picture is where I was staying last week. My diet became extra relaxed but not terrible. I did morning stretches nearly every day. The evening stretches are still my arch-nemesis. I don't remember the last time I did them. I even stopped doing the yoga work as prescribed by Kenzai. I did yoga but I did it my own way. I stopped jump-roping because I was fed up with peeing myself and started doing alternative cardio that is more mom-friendly. I was doing the plank challenge and 8MA challenge but decided to stop it and replace it with a daily diastasis recti friendly core routine. I felt that my separation was getting worse instead of better so thought to dial-back the core work and spend some time reconnecting to my deep core and pelvic floor.
So, basically, I've gone rogue, but not in a bad way. I regret not being more social on the blogs, but my internet in Uganda was spotty. I spent the time I was online connecting with my family instead of with Kenzai. Priorities. The good news is that I didn't just give up on my fitness. The bad news is that I haven't connected well with this program.
Oh yeah, and I won't be able to update my picture today. My phone disappeared in the Addis Ababa airport while I was taking a nap. I am still working on getting a replacement phone up and running. But, for the nutrition team, I'm about the same as I was at the end of week three. Perhaps I gained a 1/2 kg while eating a bit loosely, in Kampala, but I'm sure the diet at this moment is still relevant.
Tweet