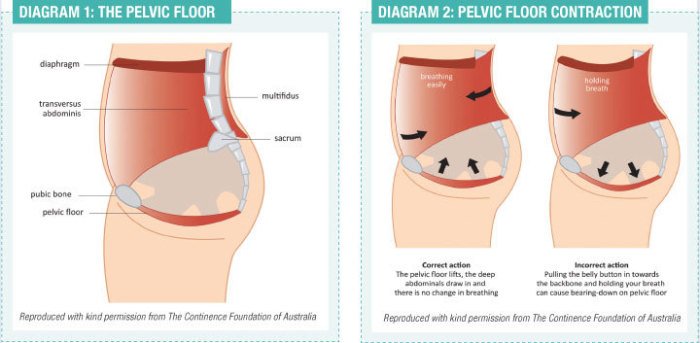 The pelvic floor muscles are apparently these super important muscles that provide support for your pelvic organs and help maintain the continence of your bladder and bowel. They can be strained or injured by the following: not keeping them active or over working them, being pregnant and having babies, a history of back pain, ongoing constipation and straining to empty the bowels, being overweight, obese or having a body mass index (BMI) over 25, heavy lifting (e.g. at work or the gym), a chronic cough or sneeze, including those linked to asthma, smoking or hayfever, previous injury to the pelvic region (e.g. a fall, surgery or pelvic radiotherapy) and
growing older.
What happens when your pelvic floor muscles are weakened, over-stretched or too tight? A whole host of unpleasantness including accidentally leaking urine when you exercise, laugh, cough or sneeze, needing to get to the toilet in a hurry or not making it there in time, constantly needing to go to the toilet, finding it difficult to empty your bladder or bowel, accidentally losing control of your bladder or bowel, accidentally passing wind, a prolapse or painful sex .
Why aren't these muscles talked about more? I'd venture to say that most of us take them for granted until one day, they fail us. At six months post-partum, I'm still suffering from a few of the embarrassing symptoms above. To add to those symptoms, I decided to try my first post-partum Kenzai workout this morning and found that the Ring of Fire was near impossible for me...and likely a really bad idea for me to be doing if my pelvic floor is not yet fully recovered. That sent me on a quest to figure out how to rehabilitate my pelvic floor faster and to determine what types of exercises I should avoid until that time.
Apparently, the kegel is still the basic way to go to get that pelvic floor back in shape, but the first step is to identify the muscles involved in a proper kegel. You can do this by visualizing the need to urinate or pass gas and pull up on the muscles to stop these actions. Nothing above the belly button should be activated, and you should be able to breath easily. Holding 10 kegels as long as possible a few times a day is the recommended way to get that pelvic floor back into shape. The only problem is remembering to actually do them!! Any recommendations for how I can do that?
Pelvic exercises to avoid include sit ups, curl ups, crunches, abdominal exercises with medicine ball, V-sit, hundreds, double leg lowers, and plank position on hands and feet (eg 'hovers', full push ups). Great! All the best stuff! However, there's modified versions of these that I can do....so, I'll continue my research and sub those in for the hard-core abdominal exercises until I can actually hold my pee while I jump rope. Also, any leads on effective, fun pelvic floor exercises is highly appreciated.
---