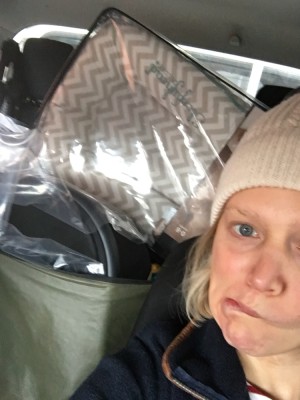 I'm very happy to report that Sculpt is going a whole lot better now that I've recovered. I've been running as my cardio and it makes me feel so good finishing a run and then coming in and doing my sculpt workout. The legs are burning but it feels goooooood.
I'll admit I've been skimping on the upper body stuff a bit but am making that next weeks mission and, having just bought maternity swimsuit, will start tomorrow with a swim.
Food discipline leaves a lot to be desired. I know I need to just knock it on the head but I've got into the habit of eating sweet stuff in the evening after dinner and am finding it really hard to stop! It's just a case of being disciplined so I've stocked up on fruit today and will keep persevering! It's hard though- the science says you don't need extra calories during pregnancy until the third trimester...so why all this hunger?!
Super cold here in the U.K. today- will probably do my workout inside!
Photo; me with a car full of baby related goodies! Picked up our pram this morning. This shits getting real!
---