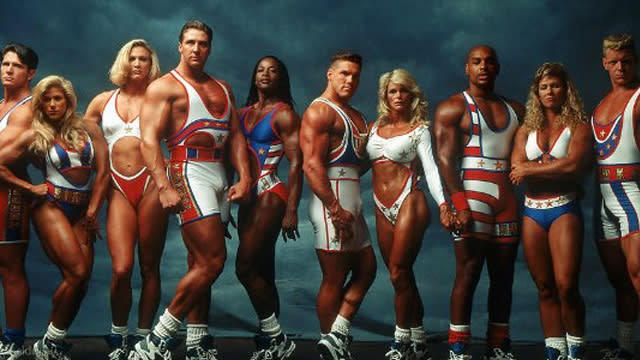 Last week, a drunk middle-aged guy I'd never met came into the pub where I work and started chatting with me and the other bar staff. Nothing unusual, but a bit later on I noticed that he was whispering, laughing and looking up at me with his mates. As I walked over towards them he asked me 'are you going on Gladiators?' to which they all burst out laughing.
I'm not sure if it was just in the UK that Gladiators was a major Saturday night family TV event. It's basically a game show where fitness enthusiasts take on challenges against body building 'gladiators'. Anyway, I was quite taken aback. This wasn't a friendly question in any sense, it was clearly hilarious to them, but I wasn't in on the joke. What do you mean by that I wanted to ask, but I felt self-conscious as to what the answer might be and somewhat lost for words. I've worked in pubs a lot so am used to customers being drunk and inappropriate, but nobody had ever crossed a line like this before. As someone with pretty low self-esteem it took me a couple of days to work through the way this guy had behaved towards me.
The same guy came in last night and sat in the same spot, with a view the whole way down the bar where staff have to stand. He clearly knew he'd gotten under my skin last week, and he wanted more. There was more whispering and laughing through the evening and when I ignored that, he started shouting a famous line from the show, 'Gladiators, ready, contenders ready' at the top of his voice to his friends. My blood boiled. There was no way this wasn't body shaming- this was fit-shaming! God forbid, a woman have muscles and wear clothes that show them off.
Hats off to the manager who took action the moment I told her what was going on, the bloke sheepishly apologised and stopped what he'd been doing. He gave me a bit of attitude when I refused to serve him later on, to which I didn't hold back. I told him he was a bully who'd insulted and embarrassed me, and that he'd be lucky if I ever served him a drink again in this pub. His response, predictably, was pathetic. He was shocked and didn't know what to say. I felt glad that I'm at an age where I could handle it and take him down a peg or two. But I was amazed, after the strides feminism has taken recently, at the number of bystanders to this incident. There were even two women there who tried to stand up for him, one saying 'aw its his birthday', the other one 'I don't think he meant it the way you took it'. One of his male friends complained to the manager that I'd 'gone off on one' at him, although she was having none of it.
So there we are. Here's to standing up to bullies!
---