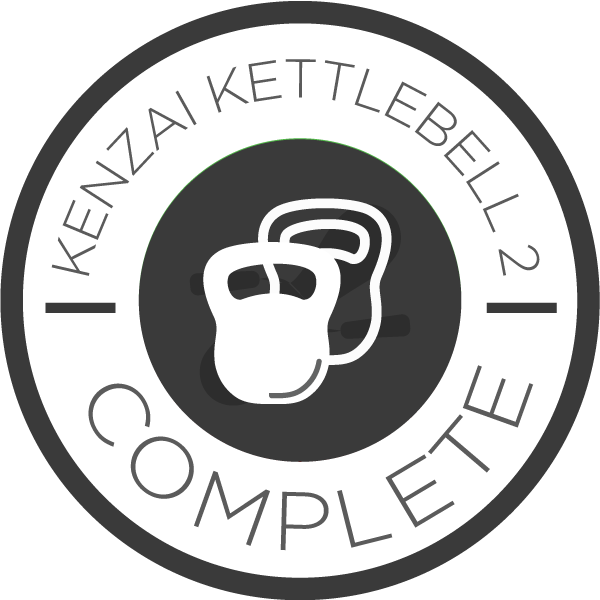 Kettlebell 2 Day 42: Graduation, thoughts and a family photo
GRADUATION POST
Jul 22nd, 2018 at 10:58PM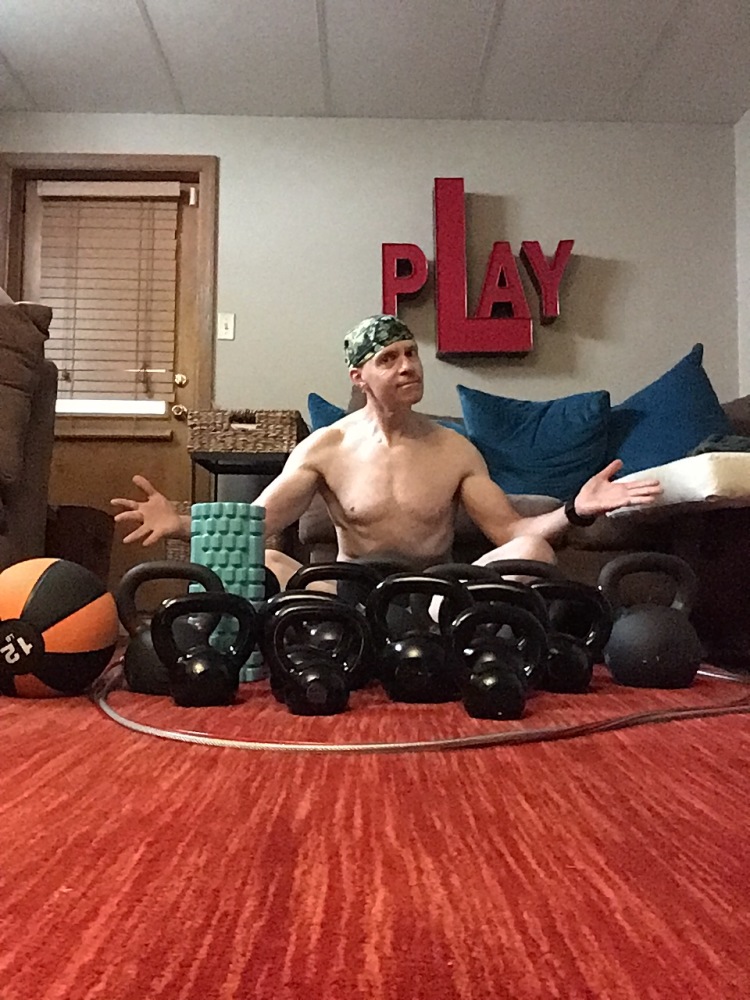 We did it Team Camelot! You all came together and crushed a tough program!!
That sticky bandit workout was a great twist for the final workout! I performed the entire 3 cycles without losing grip on the Bellz. Went with twin 20 pounders thinking they might be too light (the next size up I have as twins are 31 pounds, definitely too heavy). Was I wrong, 20 pounds was just about right. Managed max reps for each and every set. Workout complete but my palms were SWEATY and it was tough keeping a grip on the Bellz at the end. Wrist bands and/or hockey tape on the Bellz would definitely help with that.
There were some trials and tribulations on this program. The diet. I know that a larger portion of the success comes from following the diet. And I did do that to a large degree. But the little things wiggled there way in from time to time. The "death by 1000 papercuts," certainly applied to me on this program every so often. I think part of the problem is that I try/like to run lean on the carbs, therefore I tend to crave them more. Hell, I crave things that are "banned,"...most of the time I don't crave ice cream, sweets or bread, but as soon as you tell me I can't have them, I crave them! Maybe kale should be banned on Kenzai programs? :) Regardless, I would say the diet was a 7-8 out of 10 on this program. Room for improvement.
On the flip side, the program overall was fantastic. My favorite to date. One I would love to do again, (and again!) I missed the Day 6 workout because I was climbing Longs Peak that day (lame excuse!) but I slotted the Day 6 exercise into the Day 14 "free cardio," slot, also swapped the Day 27 and Day 28 workout. Spent a few days out in Colorado during the first week of the program, found a great gym out there with plenty of Bellz, and just loved getting away from Home Base®️ for a few days of hiking in the mountains and swinging Bellz at 7700' above sea level. Also slotted in plenty of extra credit cardio, yoga, etc while here. I don't skip workouts for being too tired, not having enough time, etc. It just doesn't happen. Anyway, this program ramped up quickly and was a perfect sequel to Kettlebell 1. To me it had an entirely different feel however. More challenging, rigorous, and grueling. But also more rewarding. I would hardly classify Kettlebell 1 as, "easy," but it safely worked in the swings and other exercises. The Bellz can be dangerous if not handled properly!
At the end, despite the nagging tweaky nature of my right shoulder, I felt like I added some muscle mass (I'm at 172 pounds while starting the program at 168), pants feel looser, feel great, stronger, etc. Been getting a few complements here and there as well which never hurts. The thing I have learned about every Kenzai program is that you cannot have it all. Nor should you. On KB1 it was the, "jack of all trades, master of none," whittle that fat down and gain some muscle. Worked it all but didn't master any of it. Chisel, well, the HIIT really gets the heart and lungs primed and that fat off, but the muscle strength takes a little hit. With Kettlebell 2, this is the first program that I actually gained weight, but I am sure the cardio endurance took a little bit of a hit (will try the 5-mile Ranger Challenge run this week to see how it stacks up vs earlier this year). That is AOK by me, I hit the goals of the program with increased muscle and tone and just feeling $1 short of a million bucks!
I think Chisel is the ultimate counter-program to Kettlebell 2, and kudos to the Chisel folks who have been Chiseling away while we have been swinging the Bellz (the two programs ran in parallel this cycle). I think following up Bellz 2 with Chisel is the best of both worlds, just look at Robin...he did it, as well as Fish and Wardo:
https://kenzai.me/jasonf/blog/fo-chizzle-day-42-fishizzle
https://kenzai.me/ward/blog/exit-stage-left
Looking forward to a maintenance workout that includes some Bellz options and/or the mother of all programs, the Bellz/Chizz hybrid!
As for what is next, I plan to repeat the exercises from the last 2 weeks of the program, keep the strict diet in maintenance mode (after relaxing it a bit this upcoming week). Got a fair bit travel coming up between August and October, and will plan to tackle another program in November. At this point, looks like a re-do of Chisel, the challenge being American Thanksgiving is smack in the middle of the program. But it will be a nice challenge, so why not?
Finally, the family has grown since I started Bellz 2. They didn't quite multiply like rabbits, but the family is quite big now. Double bellz in the 10, 15, 20, 31, and 35 pound sizes. Singles in 25, 40, 44, and 53 pounds. Not to mention the quartet of ropes: speedy, Buff, Zeus and Kronos. And the 12 pound medicine ball!
Best to all of my Camelot teammates...especially Cat, Kim and Wendy who have been prior teammates. Hope to train with you again. Peace, love and chicken grease!
Tweet