Jim Matt's Kenzai Blast: T-shirt Ready program, T-Shirt Ready | Oct 21 2019, starts in 57 days.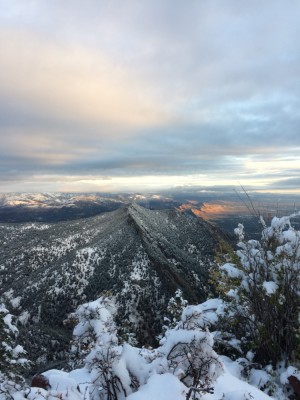 So, I was in Leadville on 10/2, staged to climb Mount Elbert, the highest peak in Colorado at 14,439'. But heavy snow in Leadville caused a power outage and encouraged me to change my plans. I headed down to Boulder, CO, got in a short hike and met my old friend Anh (she is not old, but we have been friends for years) for hot Yoga and a late lunch.
Later that day my old climbing buddy Lee met at a pub for a beer and catching up.
Anh suggested that we do an early morning/sunrise hike up to Bear Peak in Boulder. Bear Peak is the second tallest peak in Boulder. Although it rises to "only" 8459', it is a good amount of elevation gain from Boulder.
It was quite snowy up there, but we made it to the summit for sunrise...although the sunrise was obscured by clouds.
Later that morning my former coworker Don and I did a short hike up to Mount Sanitas.
I then headed back to Denver, ditched my car, and here I have been since Tuesday. I managed over 40,000 steps of walking on Tuesday, but I've been judging beer since then and managed only some walking, pushups and situps. Haven't been going too crazy on the eating or drinking front, but I am looking forward to returning home and getting intimate with the Kettlebells (and my wife!) and getting that diet tight!
The hikes (quite frankly) haven't taken all that much out of me. My buddy Don (who lives in Boulder) even made the comment about how he was huffing and puffing his way up Mt. Sanitas and I was barely even breathing hard. I met Anh at the yoga classroom...she didn't even recognize me because of the weight I have dropped. Thanks Kenzai! :-)
---