Jim Matt's Kenzai Blast: T-shirt Ready program, T-Shirt Ready | Oct 21 2019, starts in 60 days.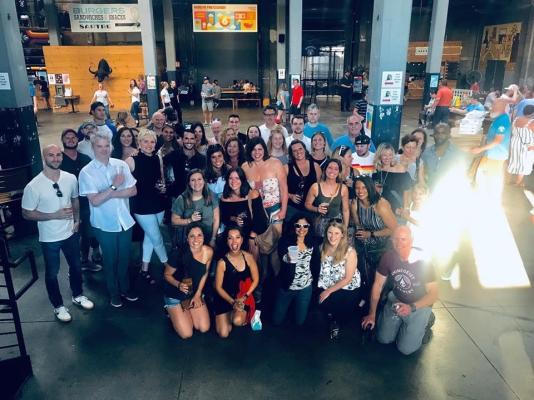 This week was a fairly good yet busy one. I worked over the holiday so no time off, but I love my job so it is not a lot like work!
Last Friday I hosted the Carter Fit AF folks at the brewery, gave them the full (not complete) tour and did not let them drink alone. This was after brewing a collab beer with the one and only Mitch Steele, former Brewmaster of Stone Brewing and current Brewmaster at New Realm Brewery in Atlanta, GA. A career highlight (for me, probably not for him!)
Sunday we had lunch with Aimee's daughter who will be getting married soon. Lunch was had at a place that I have always wanted to try, ‪Sichuan Chili‬. They provided us with two menus: the white (person) one and the red one. I was the only one brave enough to order from the red one, Sichuan Bo-Bo Shrimp was respectably garlic-y and spicy, it was delicious! Interestingly enough I was the only Caucasian at the table, most of the people attending lunch were were Filipina, save for the other male in attendance (fiance of my step-daughter) who is from Puerto Rico...interestingly enough when asked how spicy he wanted his dish on a scale of 1-6, he responded, "zero!"
Anyway, I digress. I tweaked my back last week, and it was aggravated when my wife slapped me on the ass Sunday, so I had taken a hiatus from HIIT training. This week was the 5x per week KLife workout along with some stair workouts in the heat, holy hell it was challenging, I had forgotten how challenging the KLife 5x per week was! The workout hits 3 muscle groups plus abs on Days 1, 2, 4, 5, with Day 3 being more of a "full body integration," and, "heavy on the abs," type of workout. I did Day 3 exercises in my preferred cycle format, also modified for some extra fun (as was this scissor-jack/spider push-up combo).
https://www.instagram.com/p/BzdAQZ3BzUb/
I also tried my hand at making a (non-kompliant) Detroit Style deep dish pizza on Thursday. It turned out good, but the crust was slightly overdone. Not sure if I will attempt again before Beach Blast ‪starts on the 15th.‬...probably not. It did go great with homemade Calamansi Margaritas that evening (recipe available upon request).
You know what that means, right? Deep dish pizza -> deep dish push-ups!
https://www.instagram.com/p/BziH5tQhmI5/
Next week I rein the diet in even more and get back to a mixture of HIIT and KLife 3x per week workouts in anticipation of Beach Blast.
Party on!
---