Jim Matt's Kenzai Blast: Beach Ready program, Beach Ready | Jul 15, starts in 28 days.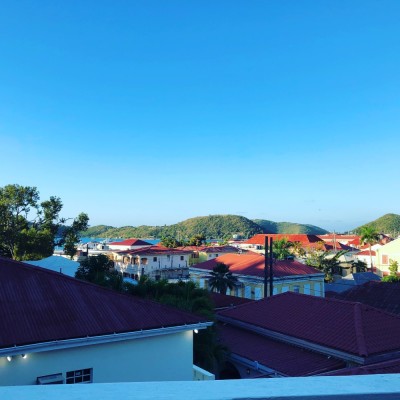 Vacation is (almost) officially over. :( It was a good one, plenty of snorkeling, swimming, sunburn, SCUBA and beach time. On the diet front, I hit almost all of the goals: no "junk," food, eyeballed the grams, shopped for healthy food whenever we could. Even though my wife sometimes tempted me with fries or sweets/desserts, I refused them. The misses were the sampling of beer at my friend's brewery and the occasional tropical cocktail in the evening. Nothing off the rails, no major disasters, and certainly I can live with all of the choices that I made (everything is a choice, remember that) on this trip. I manged to get all of the workouts in, save for an official Day 42 free cardio, which will be easily made up this week. All in all, no real gains this week, but more importantly, no losses or steps backward (with the exception of a slight cold coming on at the end of the trip).
I also learned an important lesson watching my wife eat the other night. I had planned to order a flatiron steak with broccoli and rice, nice and kompliant. But they were out, so I went with a pulled pork sandwich with a salad and slaw instead. I left half the bun behind, they served the dish with a pasta salad that was laden with a bunch of mayo, and I avoided that as well. My wife ordered fish tacos, and it came with a big bowl of fries. She did a number on the fries and also on the pasta salad...a good example of, "food without brakes," or, "Everest eating."
http://pulse.kenzai.com/everest-eating
Pretty similar to the Grok lesson, no? Also, I see this all of the time where there is food served to us and we feel the need (conscious or unconscious) to finish it. We always have the choice to not finish it.
We had a bunch of food left in our fridge, so it was buffet time for lunch. Given that my lunch portions are now all AMAYW(!) I was only too happy to oblige (see picture below).
Also got the last workout in from the BEAUTIFUL second floor deck at the Bunker Hill hotel, the site of all of my workouts this week.
The good news going forward is that there are no vacations, weekends away, or work events planned between now and Day 90, so it is CLEAR SAILING ahead. No excuses to not make the most of that clear path, so let's do this, shall we?
I will check in from Home Base® tomorrow, make it a strong Week 7 Team Aspen! :)
---