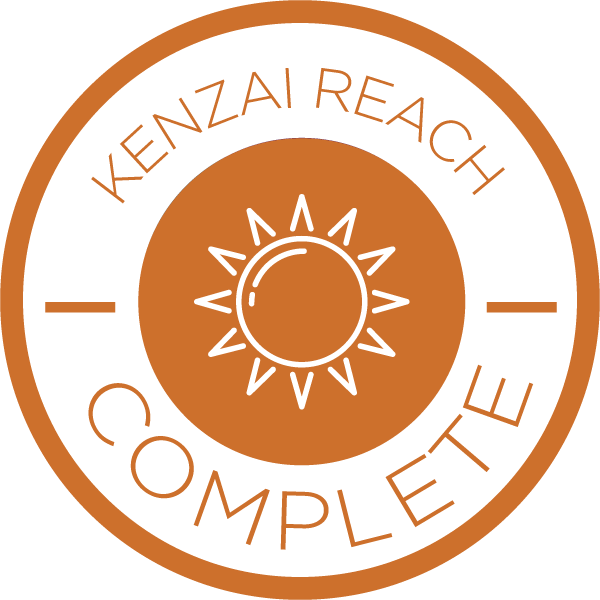 Back toward the end of KB2—for me, that was in the fall of 2015—Ward asked each of us trainees if there were any muscles we felt were really tight. He promised he would respond back with a stretch that hit the muscle each person reported in as being tight. For me, the choice was obvious: my hamstrings. Ward prescribed the jackknife, a pose where you hold your legs straight, lean back with your ass, bend at the pelvis, keep your back straight, and lean forward with your hands over your head in line with your torso.
It sounds like a classic yoga-style pose. Maybe it is, but it didn't crop up as such in isolation during Reach. Regardless, it is very much like a fleeting portion of the transition from arching your back with hands outstretched to placing your hands down by your feet, which we've been doing right after the Mountain Pose at the beginning of the Sun Salutation.
Many times during this round of Reach, I went into the jackknife right out of bed to see how flexible I was feeling that day. I would do it later in the day, too, some days. It was a test. If I felt my hamstrings and glutes light up something fierce, it was a bad day. If they didn't light up so much, it was a good day. The adjectives good and bad overdramatize. Let's just say there were days on which I felt more flexible and days on which I felt less flexible. There was no discernible pattern.
You don't turn into a Gumby like Thomas in the photos in the workout sheets overnight. You probably never turn into a Gumby if you weren't one already. Rather, for me Reach was more about maintaining flexibility. Whatever modicum I've got, I want to keep. After the eight weeks, I was not transformed. Rather, I had been trained to do things that will help me hang onto what I've got. My purpose, once again, was to know how to stretch and how to make small improvements.
Since I was working with a physio and doing movements he was recommending at the same time as I was doing the program, I learned a lot. A lot more than I would have without the additional input and feedback. Although I first went to the physio to find ways to reduce my lower back pain, in the end my interaction with him combined with Reach turned into an intense educational experience.
One of the Lessons on PDF said it was OK to find that during each successive relaxation your increased range of motion might only be miniscule. Usually, they were exactly that. I am writing this on Day 56, and I haven't yet done the final Flexibility Assessment, but if it turns out my increased flexibility is only miniscule, then that's OK.
As always, the challenge is integrating this stuff into my life. Off program, well, I am off program. I know there are a lot of people who want to be on program all the time just to give them the kick in the pants they need to keep going. Others have transformed themselves into exercise nuts, so on or off program they find a way to work out every day. I haven't. Often, they aspire to do Spartans or marathons. I don't. For me, the food has never been the problem. The diet is the diet, and I follow it except when eating out. The exercise has been the problem. It's easy to slack off when you're off program. I often do.
I am starting with Kenzai Fusion tomorrow. According to an enticing email I got from Thomas the other day, in Fusion "you're going to spend six weeks exploring the best of our strength, flexibility, balance, and posture programs! As a Kenzai veteran you'll get a chance to see how all of the different disciplines you've explored play out in your body when you are practicing all aspects at the same time." That's something I've tried to do myself during K Life, but usually I end up doing what is prescribed rather than thinking out of the box. I hope Fusion will help me move in that direction.
Tokyo, Sunday, 10 November 2019, 19:29 UTC+9
---