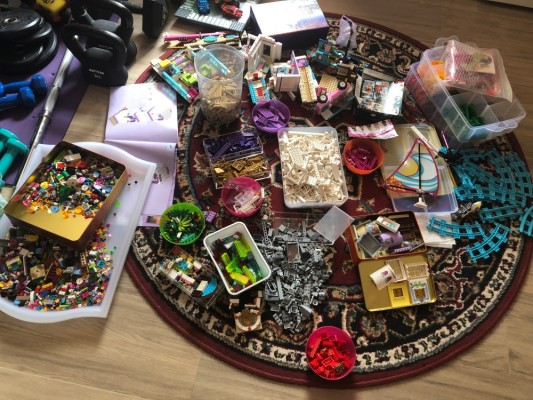 This week has been a bit of a rough one... I've had a really bad cold and sore throat and it completely put me out on thursday. Added to that, is a small lower back injury that caused me quite a lot of pain. I think I might have overextended my back during tennis. But I've managed to smash 5 out of 6 workouts so far. It's saturday today.
As for the diet front, I took the time to think about how I eat and I found that I'm 1) a stress eater 2) a bored eater. In other words, I eat when I'm stressed and I eat when I'm bored. Well, since life is generally stressful for a mum with young kids, there's not much I can do about the stress bit (except to try and not think about drinking), but I found a way to deal with the bored bit. Sorting my kids' lego!!!
Every night this week (except for when I was ill in bed on thursday) I've been hard at work sorting my kids' legos and rebuilding some of their larger sets. This has kept me on diet, and I've found the whole experience quite stress busting and meditative. Double win! AS such, it's been ace on the diet front!
I think I'm looking a bit slimmer... hA!
---