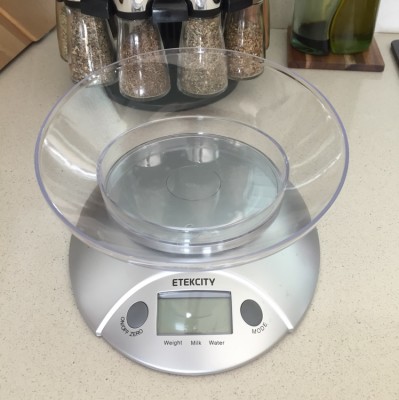 Ever since I got back from vacation (last Wednesday) I have been following the diet plan pretty nicely. Well, the first two days were a challenge because of lack of available food in the stores. After a big storm, the bread, pasta, produce, and egg sections were empty! A separate mention to eggs, which didn't appear back in the shelves for almost 1 week after storm passed to the point I was thinking the winds blew away all the chicken hens!
Truth be told, this is the first time using the kitchen scale. When I did Kenzai Body 1, I refused to buy one and I made two "good" excuses 1) no space in a tiny apartment and 2) I will never have a scale outside of home and will not want to become dependent on it. So I ended up doing extra effort in memorizing portions of food and scrutinizing the food labels to find the weight measure. The good thing was it got me used to knowing how my portions should look whether I'm at home or out and about. Now that I have my scale I have to say I LOVE it! Makes it easier and also I know that I'm getting my food right.
Only one bad moment of the week has been a night out where I had two beers. Oh well...extra 5min of rope that day.
Workout wise it's been steady and strong. Enjoying the ramp up in exercises and looking forward to more of that. There are a few workout challenges going on around Kenzai blogs and I hope more people join them! I will do the burpee challenge for 7 days (by Robin K) and will see if I make another challenge for speed rope or planks (by Sharmali). Let's have some fun!
---