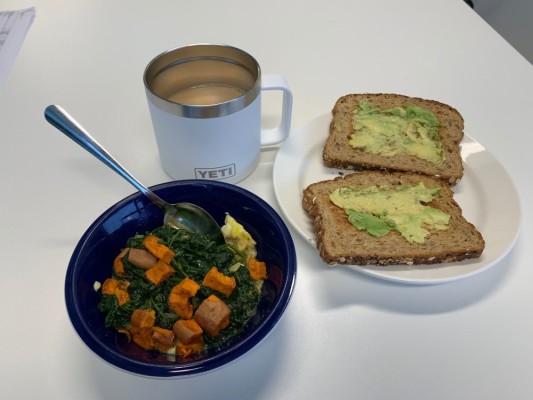 The work outs are great and I generally look forward to them. It was the diet that made me worry the most. It's not that I have an obsession with food, well maybe I do...outside of work and family, one of my passions is food and drink. I tend to stay well versed on the best new restaurants, I enjoy crafting elaborate meals for friends and family, we seek out wine to add to our cellar and more recently I've been getting into Japanese whiskeys. That being said, the week 2 diet has been less of a challenge than I anticipated. Our family has generally consumed more vegetables than average, but it's been a good experience thus far having to plan out the meals ahead of time. It's also been somewhat of a Top Chef challenge trying to improve flavor without the addition of fat and salt, but I'm enjoying it.
Today's breakfast in the office: microwave scrambled egg, sauteed spinach with garlic/shallots/chili flakes, roasted sweet potato, avocado toast and a cafe au lait - I wasn't sure how I was going to get the milk/yogurt down initially, but I've ended up brewing a cup of coffee in the morning, using half to make a warm cafe au lait, then the other half for an ice cafe au lait after lunch.
Next week will really put me to the test as I'll be travelling for business.
---