Running with the Big Dogs!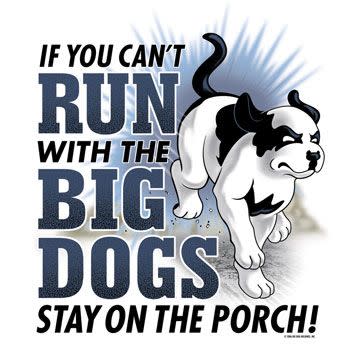 I haven't been posting about my Blast Beach Ready experiences because I'm on a team that is beta testing the new app. It's AMAZING!!
But here's my post from yesterday's blog.
Today's lesson made me realize something really cool! I'm seriously running with the Big Dogs in this program. Head trainers, Kenzai veterans, my cousin who's a trainer and Kenzai legend. And then of course having the Chief of all Chiefs as our personal trainer. The honorable and highly revered Patrick Reynolds! Now I mean it when I say I'm not intimidated. But what I've noticed this past week, is I'm pushing myself harder and sticking with the diet as strictly as I've ever done, knowing I'm training with the big guns and want to prove I can hang with them. And to possibly, someday, be one of them! So when I feel my body start to fatigue and my mind start to whine, I think of all my Big Dog teammates and I kick it into overdrive and try not to throw up. So thanks Hanalei Big Dogs for letting me tag along in the pack.
Tweet