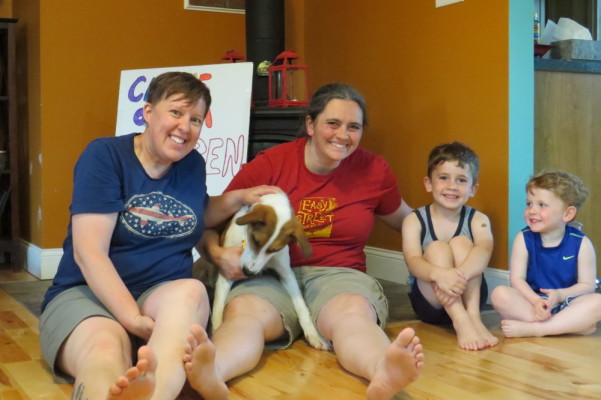 So, if you read Bev P's post, you'll know that she is my wife and Pigeon is our last name. It was my name first though, so I get to claim "original" Pigeon in this group even though I'm of course not the first.
1. Where are you from and what do you do?
In Maine, there is an unwritten, but very well understood rule that if you weren't born here, you aren't "from here". I was born and grew up in Massachusetts, just south of Boston. I came to Maine for college and moved back to Boston after graduation. That lasted 2 years, when I realized that Maine is truly the place that feels like home for me, so I've been in Maine ever since. So, even though I've lived in Maine longer than anywhere else in my life, I can't say I'm "from Maine"...but I can always say my kids are from Maine as they were both born here.
What I do includes a lot of fun things. I'm a mother, a hiker, a mountain biker, an ultimate frisbee player, a wooden puzzle maker, a gluten-free homebrewer. For work, I'm currently a project manager, but have been a scientist most of my career. I'm making moves over the next few years to become a business owner and open a small gluten-free brewery.

2, What's your best quality?
I supposed Authenticity would be my best quality. I have a pretty solid sense of who I am and I try to be that person, regardless of the situation I'm in or whether or not I will be accepted as such. In our wedding vows, my favorite line that Bev wrote was "you are unapologetically you" and that part of me gives me a sense of pride. An interesting part of understanding who you are and being authentic is that who you are can change. Deciding when to accept your changes and embrace them vs when to turn your changing self in a different direction is the key to happiness in my mind. There are parts of the way I've changed over the years that I embrace and love...becoming a mother, building the household and life we have built, choosing how to spend my time. And there are changes that I refuse to accept and am taking an active role in shifting the direction...not feeling fit, having to say no to things for fear that I can't keep up because I'm out of shape, making poor eating choices out of stress or that feeling of hopelessness to change my body. This program is part of my shifting direction. I'm no longer the person who is accepting the body I've been living in as aging, ailing, and larger than its ever been, and I'm no longer the person who feels that I have no control over it. I'm the person who's going to do everything I can to feel healthy and fit...and then accept my body where it is at that point.
3. How did you hear about Kenzai and get to be here? If you were referred by an alumni, tell us who!
My friend Moe was the first inspiration I had to look into Kenzai. I met her for lunch one day and she was literally radiating happiness and energy. I could see it from across the street before we met up. When I asked what she was doing, she said she was on day 30 of Kenzai. I'm a big believer in how energy affects everything around us and I knew at that point I would do that someday. That was 2 years ago, and even though I've known this is something I wanted to do someday, it took a long time to feel like I had the time to commit to it. We're finally in a place where we can commit to this change and super excited about it.
Ward Willis (Kenzai trainer) was my other inspiration. Ward is one of those people who shows contagious passion in everything he does. I've played Ultimate with him, I've taken his yoga classes back when he was an instructor, and he is always an inspiration to meet yourself where you are, and be the best you that you can be. I knew if he's connected to this program, than it will be everything I wanted it to be. Thanks Ward!!
At this point, I am really excited to get into this program in full and to start to feel the progress. It feels really good to be dedicating some efforts to myself and I'm super excited that my wife decided to join me in this as its great to have in-home support (and she's the best cook, so meals will be so much better than if I were the lead on this). And, I'm also looking forward to feeling like I can open a brewery without looking like I'm doing it only to drink the beer. Ha!
Good luck all!
*Photo is a couple years ago when we first brought home our rescue puppy, Reuben!
---