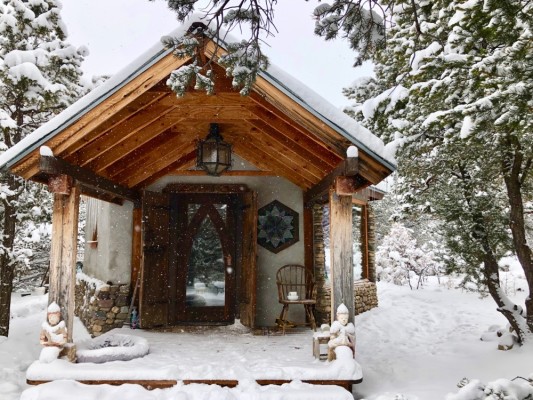 My husband had knee replacement surgery on Monday and by late afternoon I was relieved, bone tired and ready to exhale. I decided I would head up to a small retreat hut we have on the property. I had awakened at 4:30am to accompany him prior to the surgery and only as I was walking out the door did it occur to me that I hadn't done my workout :(
It was so tempting to just walk out the door, but something inside said "no, you made a commitment so stick with it."
Since I had managed to get the cardio done in the morning all I needed to do were the exercises so I grabbed a piece of paper and quickly jotted them down, pressed "I DID IT"... feeling a bit like a liar... grabbed my band and went up to the hut. I felt better after exercising but even more there was the satisfaction in staying true to my commitment.
I NEVER would have done that routine if I hadn't committed to this program and I must admit it is a bit unsettling to realize this. Why wouldn't I have made the time to care for myself with a good routine, particularly on a very stressful day.
By committing to Kenzai I am finding it possible to prioritize self-care everyday and this has brought me face-to-face with the ugly truth that in the past I did not create enough time within my daily life for "devotional practices." I would find myself easily distracted with a myriad of other responsibilities I felt were "more important!!"
I am experiencing how valuing myself has a kind of domino effect. If I place more value on the particulars of my self- care, most other events in my day have more value because I have chosen them more carefully. Thank you Kenzai!
---