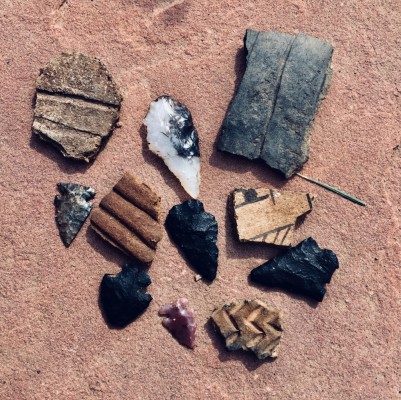 The last three months have been an education in staying focused on the simple things: preparing fruits, vegetables, and protein, creating time for exercise and devoting time to stretching-EVERYDAY!
Living in the woods of northern New Mexico almost daily I find pottery sherds and arrowheads left by the native people who inhabited this land thousands of years ago. When I find these relics I often try to imagine what their lives were like surviving in this high mountain desert. I imagine them foraging for berries and wild vegetables, hunting animals and preparing these foods over an open fire. I imagine they got plenty of exercise, clean water and fresh air. I imagine they had a sense of belonging to a community and felt support from other members.
Often I find myself wondering if they lived "the good life." Yes, I know there was a lot of hardship and violence...many difficult things, but that is another story.
All I mean is that they lived in a culture where simple nutrition and community was a basic way of life, eating wild unadulterated food.
Kenzai brought me back to these principles. Focus on pure foods, a healthy amount of them staggered throughout the day, with a good dose of exercise and voila, you can be your best self and share that!
Alongside these three months I have witnesses time and time again how our culture tries to seduce us into thinking otherwise, that there are shortcuts to weight loss, gaining energy and strength, a hundred ways to hack well-being....to be honest it infuriates me. All of the marketing tools aimed and seducing you into the next failure.
Our modern culture has led us away from the pure bliss of eating a ripe strawberry into the belief that a snickers bar is actually more "delicious." These values, not to mention fast food, are at the root of the health challenges that plague our modern culture. What a shame!
According to my Japanese-English dictionary, Kenzai means "building material...good health....well."
Kenzai has made me "well" not only because I am more focused on simple nutrition but because I am honoring the basic principles of using food as the "building material for my good health," just like the native people who lived here before me.
I feel realigned and reoriented towards these primal human activities. What a gift, it feels like coming home.
Many thanks!
---