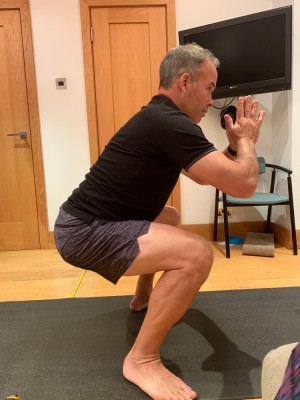 Hi Team Padmasan,
Great to catch up with everyone and join the team on this Reach adventure.
Sorry I am late to the blog-fest but I just completed the Kenzai Mind program on Sunday so I was doing the Reach exercises and following the lessons on pdfs with the help of my trainer Cece (she's awesome), that she sent through by email. Now I can finally join you on the blog and follow lessons and exercises on the app/website.
First order of business is to answer Ward's intro questions.
Who are you?
Kelly. Canadian who has lived outside the country for almost 30 years.
Where are you?
I just left HK after 7 years and I plan to spend my time in 3 places, London, England, Phuket, Thailand and Ontario, Canada.
How do you spend your time?
I have just stopped working full time after almost 30 years in the financial services business. I am spending a lot of time golfing while sorting out a lot of things for my "semi-retirement".
In addition to Golf + Kenzai, I also play hockey, tennis (a little) and I plan to get back into biking now that I have left HK (too scary there!).
If you had a magic egg white what is the one thing you would change about Kenzai?
Tough question....I guess I would make the app more friendly to use but I know that is happening already.
I would also like more variability in the diet. It seems like every time I am on a program it is always the same diet that comes up. This makes it less motivating to post the weekly photos when you know that it won't impact the diet anyways.
If you were stranded on Desert Island...what one desert would be there for you to eat from now until the end of time?
It would have to be ice cream. As much as I love a properly made lemon tart, I can't imagine eating it every day....whereas ice cream...no problem!
---