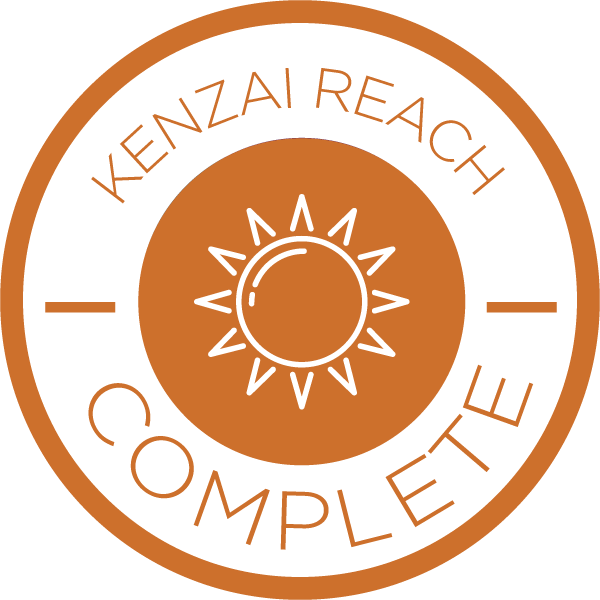 This is my second time going through the Kenzai Reach program. The first time two years ago was a challenge. I was suffering from sciatic pain. Thanks to doctor's advice, medication and Kenzai Reach I managed to overcome the pain and return to a normal pattern of life.
This time I did not have the pain to contend with or to blame for my ineptness at completing the exercises. I complained a lot, particularly about the poses requiring motion. I was angry at myself at not being able to lift my leg into the air or to bend all the way down to the floor while stretching my arm upward into the air.
Looking back, I can give a fairly accurate assessment of my efforts in terms of how the exercises helped me in my daily life.
I find I am more grounded. The Mountain Pose and San Salutation, for example, made me more aware of my feet touching Mother Earth. When I do my morning cardio, walking to the market, or climbing steps, I actually feel my feet touching the ground.
I find I can bend down more easily and deeper. Whenever I drop something on the floor, or whenever I tie my shoe strings I can bend over without the stiffness in my lower back that normally accompanied my bending over movement.
I find I can get into positions I normally would not have gotten into. I complained a lot about the exercises involving motion, but upon reflection, I did stretch muscles and parts of the body I had not made use of for a long time. As a result, I feel looser and more flexible.
I find I am more patient. The evening exercises required me to remain in a position for one to five minutes. In daily life,I am more patient when standing in line, waiting for a bus or train, or waiting for a server at a restaurant to bring me my food. (Imagination, perhaps?)
Would I recommend this program to others? Indeed, yes. Particularly to people like me who are older and/or who spend a lot of time humped over desks staring into monitors. I would caution them to be patient and to realize their bodies are going to raise a lot of resistence. The results, however, are worth all the effort and discomfort.
Thank you to those who commented on my blog. And a special thank you to Kim for the kind and helpful comments.
---