All cracked up.
Jul 23rd, 2016 at 12:58AM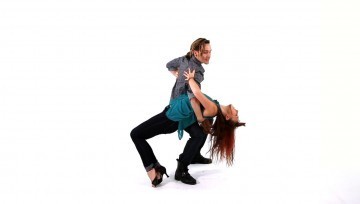 I've been dancing a ton lately. I actually went out dancing 5 times last week. It was SO fun. One of my favorite partners is a man whom I affectionately call "Sir Dips A Lot," because, as you can imagine, he dips me A LOT!
Sir Dips A Lot was in a foul mood on Saturday (I don't know why he came out dancing). Anyway he was dancing rather aggressively spinning me around like crazy and living up to his name and then some.
A lot of dips in country and swing dancing have the woman dipping backwards over the man's leg so that his leg is supporting some of the woman's weight. But when you're being thrown around and slammed down on someone's leg repeatedly, something is bound to give. Note, ribs are not as strong as the femur (thigh bone)
Since Saturday, I've bee a little sore but I kept exercising thinking it was a muscle strain and not a big deal. Oh boy, bad call. I got up this morning and tried to run. Nope not happening. I thought maybe I was just stiff from sleeping so I kept pushing but when the nausea hit from the pain I knew it was game over. I think I have a cracked rib or two. It is painful to breathe, walk, twist, run, laugh, cough and jump. :o(
Boo! I'm so bummed! I'm going to take the rest of this week off and rest then try some swimming on Monday to see if that is OK. I think the barre exercises will probably be OK but I don't want to risk further injury so I'll pay extra attention to my body and form. Ugh! I hate being injured, especially in the summer. I want to PLAY!!!
OK, whine fest over! Booty on Sculptors!
Tweet