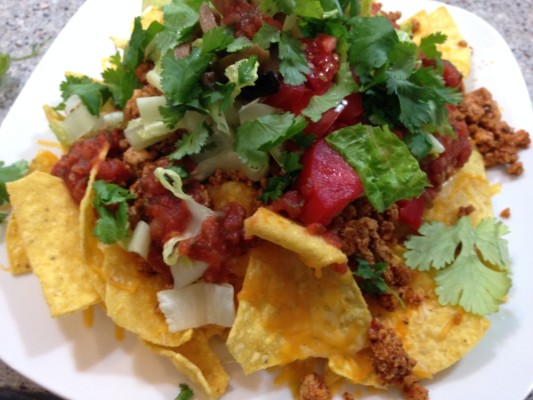 Sure, it was Easter weekend and we had brunch plans but our group of friends is so amazingly accommodating due to a wide array of dietary needs among the lot of us. A turkey breast was roasted for Richard and me with no oil and "little salt." That was an interesting one. Perspective is key because I thought it was quite salty. We made baked asparagus and there was fresh fruit. Bam! Mostly K-ompliant meal. Only thing that was missing were carbs. Someone did make some GF Yorkshire pudding but I wasn't quite sure about that so I figured I'd have some rice when I got home. But I digress.... NACHOS
We followed the rules and had our indulgence for lunch on Saturday. Luckily Olivia took an extra long nap so we got our workouts in and got to relax on the sofa in a post nacho coma. I don't know why we hadn't thought of it before but in a stroke of genius, we heated up the chips (lightly salted corn chips) in the oven. AMAZE-BALLS. The meat was the normal chicken "taco" meat we make all the time. It's a no salt seasoning that we get from Costco, smoked paprika, ground garlic, onion and black pepper so that was totally compliant. We had fresh salsa, cilantro, chives, lettuce, and tomatoes. Where the bulk of the indulgence came in was with the cheese and some spicy olives. So satisfying.
It was a good thing that we worked our right before lunch because we had to have our post workout snack before making the nachos so I was already pretty full and wasn't as tempted to go overboard. Only negative side effect was the thirst. SO very thirsty. Indulgence 2 ticked off. Back into full program as the diet continues to lean out and the workouts ramp up. Woah boy, what does month 3 have in store? Kenzai on, Willow!
---