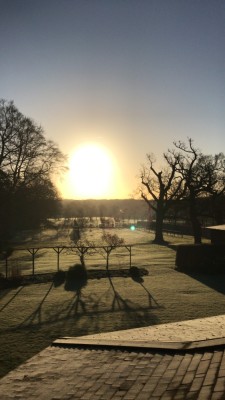 This week every day I have been meaning to 'check in ' ! Usually I can chirp away easily, but I have not been at home this week and of course mean to do it every day, so..... I must remember 'never put off till tomorrow what you can do today '
Exercise has been ok, done a few runs ( we have had nice frosty weather so it's been a pleasure to be out- I add a photo from my house today am) and spin today rather than skip, I can't manage the 'davinci' because of my shoulder, or tricep dips on chair, so have been doing alternatives!
Diet has not been consistent, mainly as my daily schedule has been all over the place, but I have eaten all the right things (bar a bag of crisps and a few cashew nuts) but not necessarily at the right time of day! And consistency I think is very important! (I know, I'll get a black mark from a trainer!!)
I'm enjoying being part of a team again and taking note of all other blogs and remarks!
Knuckling down now, going skiing in 10days time, so diet will be interesting,,!
---