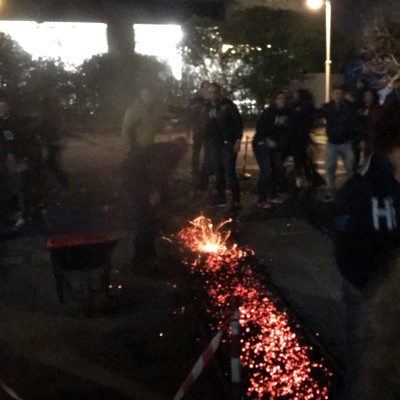 As I told you in my last post, during this weekend I'm attending a seminar called Emitional Fitness. I'm learning a lot! 100 posts will not be enough for listing all topics we're going trough, but if I have to be super brief I'm learning that emotions are how we decide to react to events in our life and they can affect our state of mind and our potential. We can work on our emotions and with the right focus we can avoid pain and free our potential.
As a prove to that last night the coach let us walk on fire, literally! I know it may sound extreme, but trust me, this experience gave me a LOT! Before the walk I had to focus and increase my level of energy. I was shocked by discovering how strong and big is our potential and how we can control our mind with focus.
Meditation of last month has been super useful and helped me a lot in this experience.
Here is a picture of the path, don't try this at home!
---