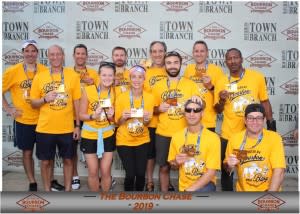 Kenzai Note Repost
-----------------------------------------
When I run, I almost always run alone. Not that I don't enjoy running with others, it's simply easier to go lace up the sneakers and start a run on my own time when it fits into the available time slots of the family schedule. My pace, my distance, my time.
This past weekend though, my solo running turned into running as part of a team. I joined a college buddy and a group of his local running friends for a team running race in the state of Kentucky in the US. It was a 12-person team, running a relay race over a total of 200 miles (322 kms). 6 teammates per van, taking turns with our assigned running legs, and then hopping back into the van to eat, sleep, and move onto the next stop to pick up our teammate and send our next runner on their way.
This was my first time doing a team running event like this and I was very curious how my running skills would translate into this situation. It was interesting to reflect back on each run leg I had:
Run 1 (7.4 mi / 12 km): Friday 8:00pm. A nice cool 50F (10C) evening with little to no wind. A run where you're a bit chilly to start, but warm up quickly. Ideal running conditions, aside from the challenge of running in the dark. The run went well, I maintained my targeted pace, and overall felt like a very typical run I do on my own. Although part of a team event, during this first leg, it didn't feel much different than a solo run.
Run 2 (5.3 mi / 8.5 km): Saturday 4:00am. A cold 38F (3C) night run with no wind thankfully. Running after only a couple hours off and on short sleep in a van, my body was tired to start. It was a clear sky, full of stars, and a brightly lit moon along a quiet country road. This was a peaceful run. Until that is the rolling hills started. Most were fine and I managed them reasonably well. But the last one kept going and going and had some really steep gradients at points. This was the first time I thought of this as a team run. I knew our next runner was only a few miles down the road (up the hills) from me, waiting for the pass off for him to continue on. That was motivation to keep those legs moving steadily up those hills. Push thru the challenge for the team!
Run 3 (6.6 mi / 10.5 km): Saturday 2:00pm. Bright sunny afternoon, with the temperature rising to 72F (22C). Typically a reasonable temperature to run in, but in comparison to the cold run just 8 hours earlier, it felt a lot hotter. This was the run that I was most curious about, and dreading a bit. How would my body respond to being on a third run in 18 hours, only getting a few hours of naps in a van, and in the temperature fluctuation. I knew the route had some rolling hills, and then a steady climb on a busy road with no shoulder towards the end. The whole run was a mental challenge. Ironically the distance is about equal to the final 6 miles (10km) of a marathon, that are typically the toughest to push thru. I had several points where I wanted to stop and walk. But I had a team time goal that I was aiming for. My body was simply tired, not being pushed towards injury, just being challenged. That was the toughest run I've had in years. And as I told my teammates after I passed the baton to the next runner, if not for the team motivation and support they were providing, I would have come in a lot slower, and would have mentally struggled even more throughout that run.
During all these runs, and especially the last two, I thought a bunch about Kenzai. First, having a healthy and physically fit body that allowed me to participate in such a fun and challenging event. Second, how having teammates really does help boost your performance and help you push thru some temporary challenges. Be it a teammate waiting for you at a running check point, or a Kenzai teammate halfway around the world supporting and cheering you on for the runs, workouts, and diet successes you're having, teamwork simply works!
If you've never had a chance to participate in a team relay event, be it running or any other activity, put it on your fitness to-do list. You'll see how much your Kenzai experience plays out in race success!
---