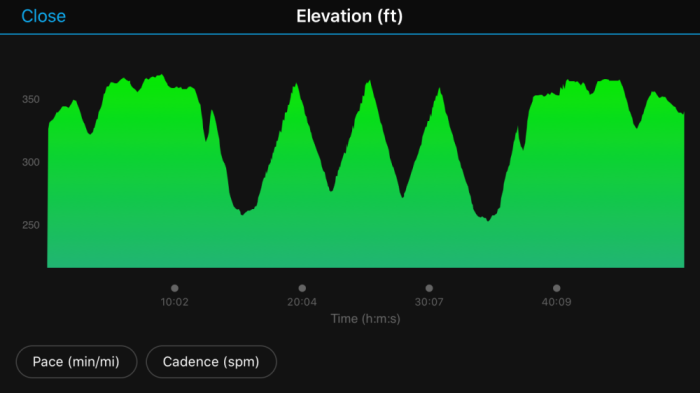 Now when I say humid, it's all relative. It is October 2nd after all, and at least not hot. It's just that the weather has been cool the last few weeks which is great to run in. This morning though was sticky and humid from the rain the last day plus. Made the Hill work 10km morning run that much more of a workout.
I used a local hill that I run now and then. It's about a 600m stretch, with a good steady climb throughout, averaging ~5% overall gradient (per Strava), with some pitches a bit higher here and there. A nice hill for repeats for a hill workout without being so crushing that it kills your legs for 3 days afterwards. I did 3 repeats of it today, each around 3mins. Had a few smaller/shorter typical little hills to and from the house to complete the total for the day. Felt good afterwards, but was happy to end at 10km, and not have a mile or two more to go.
I don't carry my phone with me on my runs (unless traveling away from home), so no photos of it today. I might swing by the spot in the car later today to snag a photo. Otherwise, have a few other spots for future hill workouts in the coming weeks that are more photo friendly. Just need to bring the phone is all.
---