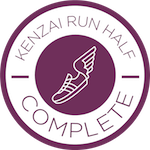 Another Great Program Complete!
GRADUATION POST
Apr 24th, 2016 at 11:02PM
Thanks Malia for developing and running such a great program. Kenzai Run 2 was a perfect transition from Kenzai Run. It built upon the principles developed during Run, and expanded them further in helping trainees who were interested in pushing their running skills to the next significant level. From the sounds of things on the fellow graduation blogs, Kenzai Marathon will no doubt be a welcome addition to the Kenzai Program offerings if that comes to be.
I covered my final run in my last post. Looking back over these 6-weeks I'm pleased that I choose to do Kenzai Run 2 at this time. It was effective doing back to back after KRun, and bridged my fitness into the nicer spring weather. I'm looking forward to getting more cycling time in now, but taking the last 6-weeks to further learn how to run train (properly vs. haphazardly), I know will help me further my running goals later this year.
It's been great being a part of this small, but dedicated first Kenzai Run 2 team. Congrats to everyone on pushing yourselves to reach this very significant accomplishment of a half-marathon. And for many of you, it looks like the Marathon will be a not too distant future goal that you will work hard towards and achieve.
After being on 3 consecutive programs, I think I'm gonna take a break for a bit, and join the Kenzai Life team for a while (but then again I might have program envy in a week and join KB2 too, you never know). Good luck all and I'll see you on the blogs.
Tweet