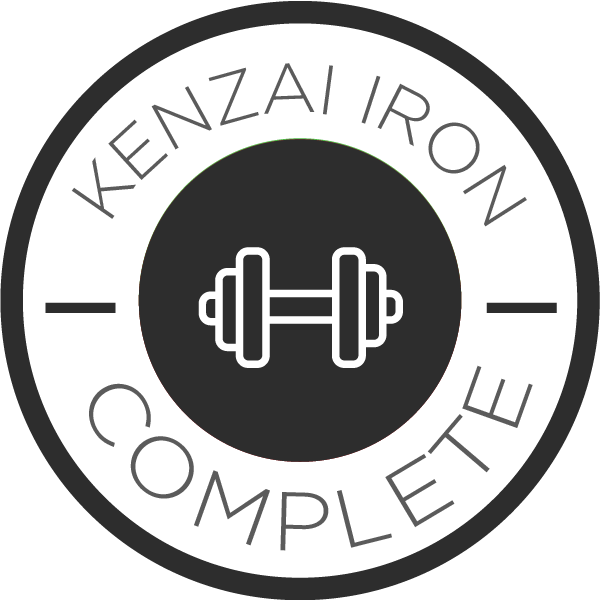 Iron Forged!
GRADUATION POST
90 days of diet and dumbbells finished! Awesome program!! But man am I happy to be crossing the finish line. 3 months of a lot of accumulated fatigue, so the body is ready for a break. KB3 was tough. But to me, Kenzai Iron was way more challenging. More exhausting, physically and mentally. But that could partially be me too, since this is the first time I've ever done this much weight work in my life. And I didn't even go 100% full throttle, because I wanted to keep my bum shoulder playing nicely for a full 90 days, and I also didn't want to mentally bonk either. I have a lot more respect for those who train with weights on a regular and continual basis.
My 4th 90-day program in the books. Pretty interesting at this point to recognize that even across different programs, the similar patterns I have to my 3 months of training. The ups, downs, mental challenges, motivational boosts and drags. It's been fun not only getting in better shape each time and educating myself further on fitness and nutrition, but also learning more about my own habits, strengths and weaknesses.
By the Numbers:
Weight: Although I can fluctuate up or down a good 3-4+ lbs in a given week, my weight started at ~185 lbs, was ~185 at day 45, and is ~185 at day 90. The body has found it's homeostasis over the last 6-8 years.
Waist: Down ~1-2 inches at the points across the hip, navel and narrowest.
Body Fat %: Down ~4% (depending on my tape measure skills margin of error). I have fluctuated in this 'athlete' BF range for a while now. I know I could drop a few more %'s if I wanted to play the crazy fitness game and get to the low level of the 'athlete' range on the BF scale, but that's not a goal of mine. It's just a number. I like to enjoy a moderate/enjoyable amount of alcohol, sweets and comfort foods in life, so I'm quite content to stay in the range I'm fortunate to be in.
Muscle Mass: Can't quantify it, but having lived in this body for 43+ years now, I know this is the most lean muscle mass I've ever had.
Workouts: 90 for 90 Iron workouts completed, plus a handful of extra runs and rides across the 3 months. With having a basic supply of weights at home, I was able to do all the workouts with weights, and avoided running into a situation where I had to sub in any of the alternative body weight workouts. But it's great having those available for this program (smart design).
Diet: Same as my half-way point report, the full 90 days gets a B+ to A- for a training program. Same typical pattern I've had for all my 90-day programs. Not at 95-100% (nor do I aim to be), but aside from the indulgences and a couple random events that are part of 3 months of life, I kept things in the targeted 80-90% compliance zone.
Eggs: ~44 dozen, or ~512 total eggs (mostly whites). I didn't break my KB3 egg record because of the protein powder added in the Iron program. The stomach appreciated the egg numbers not getting totally out of control, and I liked having the protein powder. An easy and quick drink to cap off a workout.
Chickens: Way too many to count. Needless to say there are a few coups in the area that are empty now.
Overall, very pleased with the 3 months of results. Learned a ton! Built more lean muscle. And even got motivated enough by the weights that the list to Santa has some more plates on it to bolster the home gym for the New Year. I'll be ready if and when Iron 2 hits in the future.
Well done to my fellow Iron-mates on Team Cobalt and the other teams for hitting the finish line. Good times sharing some laughs and commiserated misery on the blogs these last 3 months.
What program is next in 2018? Not sure. But for this week, this cardio boy will be getting back to some runs…even if it is sub-20F outside. The muscles need at least a few days break from the IRON. And of course some liquid celebration. This Ommegang beauty seemed appropriate. Been saving it since we picked it up on our visit to the brewery earlier in the program. Cheers!
Other photos:
Tweet