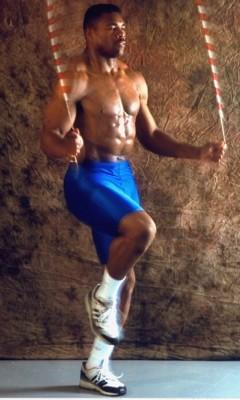 2 of the first things I realized and was discouraged by was how bad I am at push ups and pull ups. These were 2 exercises that were staples when I was growing up...it was sit-ups, push ups, and pull ups...that's about it. I remember an NFL running back named Herschel Walker who claimed that most, if not all,
of his workouts were those 3 exercises. I remember hearing how he would do 1000 push-ups a day and 2000+ sit-ups a day....hard to believe, but true. The guy had a ridiculous physique. Just makes me realize that I need more than just playing sports to get the exercise I need to keep a healthy body. I also remind myself that back then I was pushing and pulling 160 lbs and now it's 240 lbs...so I'm not being too hard in myself. On a positive note...I'm doing great with the jump rope. I did 650 straight jumps last week...in under 5 mins. I use a jump rope app called "Jump Rope Workout" that counts your jumps and let's you know when you've hit 100, 200, 300, etc...I hook my phone up to a speaker and I can play music and hear my jump count. Hope everyone is doing well.
---
My daughter had a 4-5 day weekend for Memorial Day here in the states. She's been asking me to go to the Universal Resort in Orlando FL for awhile now. So we decided last minute to go. Although I packed my jump rope and a band, it's been hard to get the workouts in and the diet has been tough to follow as well. I think I'm doing ok, all things considered (food options, not having my scale, and trying to jump rope on a carpeted hotel room). Just guess-timating and using common sense with the diet and getting as much of the workouts done as possible. What I would say is that walking around 4 giant theme parks for 8-9 hours a day has to count for something. I'm a little disappointed, because I was into a good routine...but my daughter is super excited to be here and enjoying it...so Ill get over it and back on track when we fly back tomorrow.
---
Sorry for being M.I.A. so far. Ive been keeping up with the lessons and doing the workouts, but haven't blogged. I really don't have a good excuse other than not wanting to write something just to write something. Meaning I wanted to sit down and write something significant...but'm here now and focused and ready to go all in on the program.
So a little about me. My name is Matt...I live in New Jersey and work in NYC as a financial advisor for a big bank. I'm a single parent of a 8yo little princess. Whats my best quality? Hmmm...is that bragging? Ha. I would say my personality, but I'm also very competitive. I play lacrosse once a week for most of the year...football once a week for most of the year and play in a baseball league over the summer. I've never been the guy to go to the gym religiously or with any regularity at all. I like to get my exercise through participating and competing in sports. However I injured my ankle a few months ago and I was unable to run or compete for a few weeks...then there was a month or 2 without any scheduled sports...so unfortunately I got out of shape and gained weight.
I heard about Kenzai a few years ago from a friend (Raul Barroso) who completed the program. His results were absolutely amazing and I had to try it. I'll see if I can post his Week 1 photo vs his Final photo in the blog, so you can see for yourself. He looked like an infomercial before and after. I put a lot of effort into the program, but I felt like I could have put more in especially with the diet. So being that I have gotten out of shape, I figured I would use this program to kickstart my road back to good health and physical fitness. I'm happy to be here and wish everyone luck.
- Matt
---