Silver Day09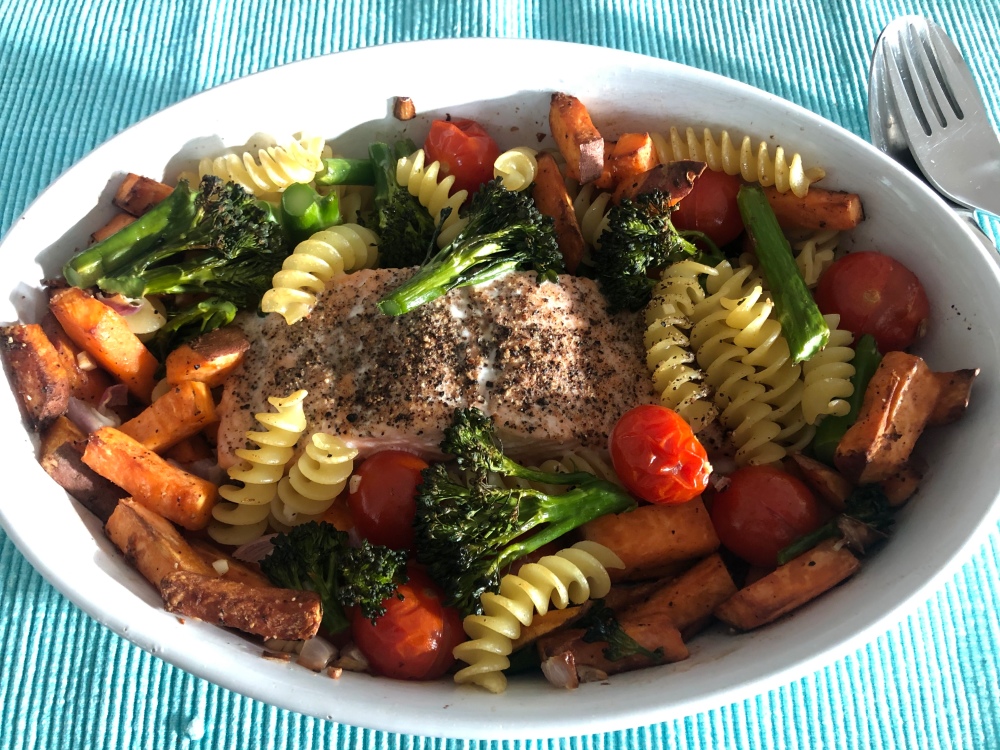 This morning the Kenzai App on my iPhone crashed each time when it started to countdown the rest time between sets. Did not have the issue on the iPad. I really love the app for the workouts so I hope it is fixed soon. Yesterday I downloaded an Apple update on my phone so I guess that is the reason.
Seen several questions about how to manage the diet in the blogs. Perhaps we can share a meal/recipe every day? I will make a start.
Thanks to Kenzai I am weighing my food now for almost a year and am quite used to that. I decide every evening what I will eat the next day and make my shopping list for the things I need. I am lucky by having a good supermarket in the basement of my apartment building and do my shopping at the end of the 5km walk before breakfast. I often cook for 2 or 3 meals that I eat during the week but getting better in preparing just one meal (for 1 person) at the time which I prefer.
For yesterday's lunch I baked sweet potato fries cut in smaller peaces in the oven for 12 minuter with some pepper and few drops of olive oil. I steam cooked broccoli for 6 minutes mixed it with cherry tomatoes, pepper and a few drops of olive oil, added it with the salmon to the potatoes in the oven and cooked all together for another 12 minutes.
At the same time cooked some pasta.
Finally I weighted 150 grams salmon and placed in the middle of a small oven dish, mixed 230 grams of veggies and potatoes with 100 grams of pasta and added it to the salmon.
If necessary reheat. Enjoy!
Tweet