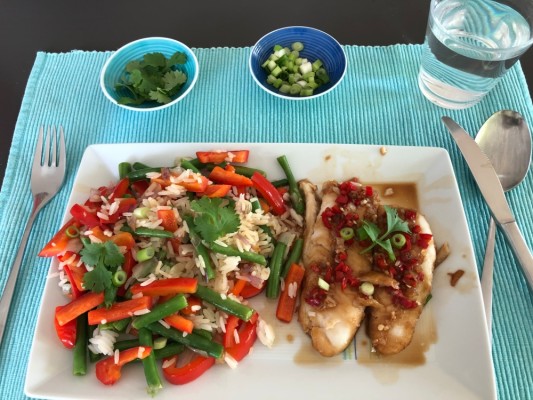 When I had dinner tonight I was thinking about Friday's lesson about Mindful Eating Sessions.
I come from a family of 4 kids and Mom always made up the table for breakfast, lunch and dinner and that is where the family was eating and having conversations about the day. Even at the age of 90 Mom would still make the table and love it when someone would join her.
In my apartment I have a dining table where I also do my work (work from home most of the time), fold my laundry, read the newspaper and do necessary repairs to equipment or furniture when required.
I don't have a table cloth but whenever it is time for a meal (lunch, breakfast or dinner) or sometimes even a snack I make place on the table, fold my laptop and make the table with a placemat and the necessary like tonights dinner of spicy fish filets and stir fried veggies with rice.
The good thing also is that for my Kenzai meal the plate only contains what I can have.
I have a habit of taking pictures of what I eat and not only in restaurants so here are some more of the past weeks at home.
---