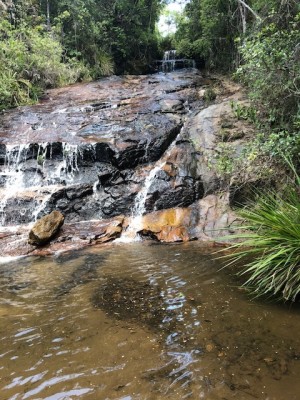 If I remember well I already mentioned my low energy levels earlier. Guess it has all to do with my limited amount of exercises. But as I have been doing 5 to 10 kilometre walks I felt save to sign up for a 7 km hike in the countryside that I made yesterday with a group of Brazilians and Expatriates about 2.5 hours drive from Sao Paulo.
The hike was a steep climb following a mountain stream through the forest, passing by seven different waterfalls and continued after that to the top of the hill. I believe the total ascent was about 500 metres. On the last part I had to let the group go ahead off me as I felt the energy drain away from me despite the water and fruits I consumed. After a short rest at the top (laying down and not able to enjoy the views) we went down with more beautiful views of the valley but I was struggling and arrived at the restaurant 20 minutes behind the group completely exhausted for a late lunch. But so satisfied that I did make it on my own!
Don't believe I have ever been so tired in my life. Took me 20 minutes before I was able to get up and take some food from the buffet but could not eat. My stomach could not handle it. It appeared that the small (¼ cup) of home made banana ice cream with chocolate sauce started my recovery with lots of water and 2 banana's on the way back to Sao Paulo.
P.S.:
The biggest satisfaction came from the fact that I felt no back pains and only slight muscle aches this morning while I write this.
---