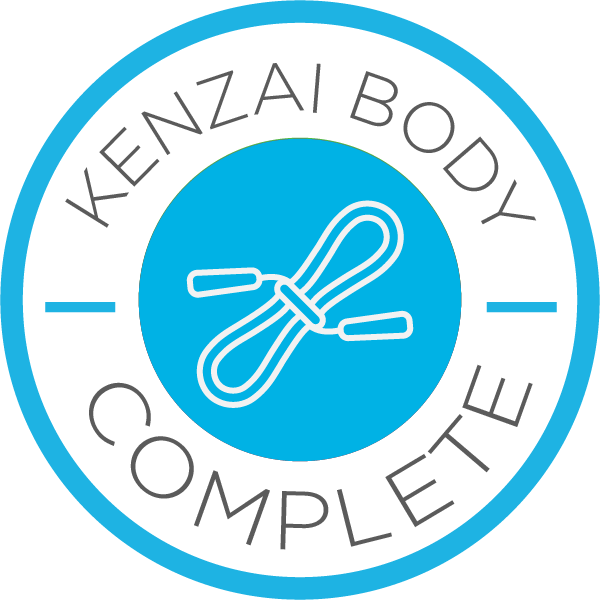 For whatever reason, I was not sleeping well last night. At about 2:30 am, bleary eyed, I looked at my phone and clicked to see what the Day 90 workout would be. I didn't see the graphic, and I saw some comments re: 3 days off, and I concluded that we didn't have a workout today. Wow -- I suddenly got stressed and disappointed. On the one hand, what an anti-climactic finish, and on the other, surprised by how just weeks ago I would have welcomed a day off and now I was jonesing for a workout!
In any event, after getting a few hours of sleep, I realized I was mistaken and pleased to find the Day 90 workout. Then the second "wow" happened. In the middle of the workout, I became somewhat emotional. Sparing all of you the details, this program has meant a lot to me -- more than I realized perhaps -- during a challenging time. Kenzai's been good to me and for me. Recognizing this was the end, at least of this phase, had an impact on me.
The third "wow" came with the workout itself. Of course I noticed the huge progress. Barely breaking a sweat on the rope -- and barely tripping -- even with adding a few reps and perhaps a set (I think I lost count). I even went back to "satan" (my pull up bar) for the last time on this program and did 5 pull ups -- couldn't lift myself to the bar the first time I used it. And then I added color bands to the sets to make them more challenging. I have to say I really like the full circuit at 3 sets. Efficient!
I am so gratified to have reached the end of the year in great shape. Most years I would set New Years goals yet usually knowing that it was just a matter of time before I fall of the wagon. To begin a year in a great place will be so satisfying. I always understood that eating healthy, balanced, and in moderation and exercising every day would put me in a great place -- but living it is worlds apart. Now that I know that I can get where I want without a fad diet, without going hungry, without doing triathlons or even being a member of a gym, I have no excuses to go back to the sloth-like existence that I lived most months of every year.
Thank you to my teammates and of course the whole Kenzai team. Your comments and unwavering positivity and support were critical to success. Special shout out to my bud Michael Klein who introduced me to Kenzai and was always there with an "atta boy" at the right time! And the biggest thanks to my wife, who as always was my greatest champion even during the most difficult of times.
I wish everyone a wonderful holiday season, full of love, peace, and happiness.
---